Reopening of refurbished Colruyt Jodoigne on Wednesday 23 August
Optimised shop and modernised butchery
Monday, August 21, 2023
Reopening of Colruyt Jodoigne: a refurbished store with a focus on sustainable choices
On Wednesday 23 August 2023, Colruyt Meilleurs Prix Jodoigne will reopen its doors on rue de Piétrain following its refurbishment. The butchery has been completely refurbished, the parapharmaceutical range extended and the bread section modernised. The retailer paid particular attention to sustainability when refurbishing its store. And lastly, Jodoigne customers can still use the Collect&Go collection point.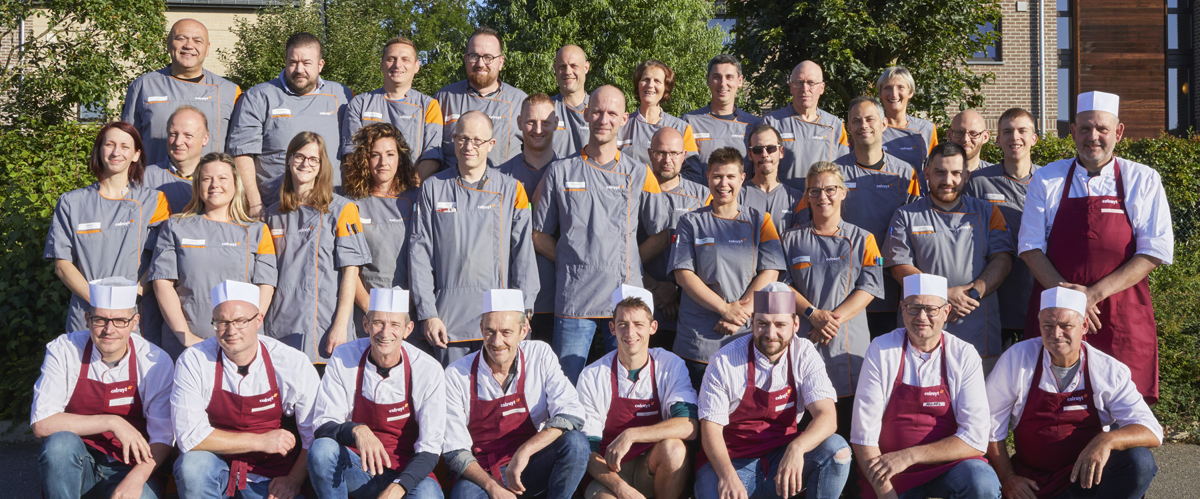 Optimised shop and modernised butchery
With an optimised shelf layout and 1,600 m² of retail space, customers at Colruyt Jodoigne are sure to find their shopping more enjoyable and efficient. Manager Amaury Staumont explains: "By grouping charcuterie and meat in the butchery, we've saved space in the fresh market. Customers will find fruit and vegetables, fresh fish, cheese, veggie products and ready meals there. At the butchery, they can choose from our wide range and discover our new catering range. The self-service counter has also been replaced by closed, transparent refrigerators, which emit less CO2. Customers can see our butchers at work in an open butchery area, which makes it easier to communicate with them if they have any questions or want to place specific orders."
​The store also has a more modern bread section and an extended parapharmaceutical range.
Collect&Go still available
In Jodoigne, customers can still use the Collect&Go collection point. Collect&Go is Colruyt Group's on-line shopping service. Customers submit their shopping list via collectandgo.be or on the app, and co-workers get their products ready at the collection point for their chosen day and time.
Special focus on sustainability
Colruyt has also opted for sustainability when renovating Colruyt Jodoigne. The butchery is fitted with sustainable refrigerators, which emit less CO2. Energy consumption is optimised thanks to the solar panels installed on the roof. The building recovers heat emitted by the refrigeration and ventilation systems to use for heating purposes, saving almost 75% in energy consumption. The car park can accommodate 161 vehicles. It is equipped with two charging points for three electric vehicles and four bicycle racks for the safe storage of eight bicycles or cargo bikes.
Open evening on Tuesday 22 August
Manager Amaury Staumont concludes: "My colleague and butcher manager Michaël Cappelle, my team of 36 co-workers and 10 butchers and I can't wait to welcome our customers. We're inviting them to a sneak preview of the refurbished store at our open evening on Tuesday 22 August, from 5.00 pm to 8.00 pm. Everyone is welcome!" »
---
Contactinformation
​Nicolas Podziukas (Regional Manager) at +32 (0)2 345 2345
​Hanne Poppe (Colruyt Lowest Prices Press Officer) at +32 (0)479 72 29 10.
Practical information
​Colruyt Jodoigne
​Rue de Piétrain 36E
​1370 Jodoigne
Opening Hours
​Mon. - Sat.: 8.30 am - 8.00 pm
​Fri.: 8.30 am - 9.00 pm
---
About Colruyt Lowest Prices
​Colruyt is Colruyt Group's Lowest Prices supermarket. The store chain has been guaranteeing the lowest price for every product at every moment for more than 40 years now. Customers can find about 10,500 food and 7,500 non-food products, from daily fresh fruit, vegetables and meat to cleaning and personal hygiene products. Colruyt also stands out by its simplicity, efficient shopping and efforts in the area of sustainability. The chain operates about 240 stores in Belgium and the Grand Duchy of Luxembourg and employs more than 15,000 people. Customers can also order their purchases in the Colruyt webshop and have them delivered at home or pick them up in more than 200 Collect&Go collection points.