Renewed Spar Compact Lauwe opens its doors on 10 March
With a focus on fresh products and a new, modern look
Monday, March 7, 2022
On Thursday 10 March, the renewed Spar Compact Colruyt Group store in Lauwe will reopen. The supermarket was given a thorough facelift and will reopen as a Spar store of the new generation, with extra attention to fresh products, sustainability and the already well-known customer-friendly service.From now on, customers will find a bigger bakery at Spar Compact Lauwe and a PostPunt as well. In that way, the store hopes to meet the needs of the customers even better.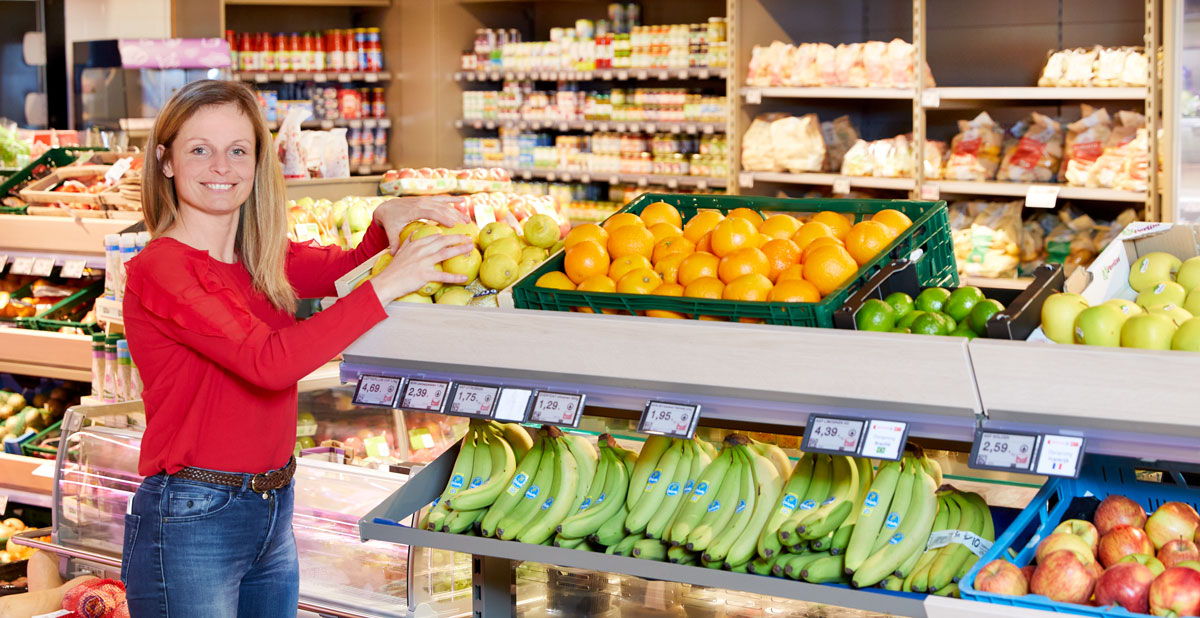 Small family business with 'girl power'
Store manager Ula Skwark for one is enthusiastic about the reopening. "Our Spar opened its doors more than 11 years ago. We have been giving our best with our team for years, but we could do even better," she says. With six female colleagues, Ula now runs a Spar store that was completely renovated in the style of the newest generation: "We form a small family company, so to speak. Six women that get along very well and love working together, something our customers can tell."
Fresh and modern design
At the end of February, Spar Lauwe closed its doors for two weeks because of the renovation works. The store was then given a fresh and modern design. All adaptations were fully done in the new style of Spar Colruyt Group to offer customers an even better shopping experience. "New checkouts, a new floor, a renewed parking space, and the entrance and outer walls were also taken care of. Our fresh department is one of the spearheads of our renewed store, with ultra-fresh vegetables and fruit. The assortment of our bakery will also be significantly bigger," Ula explains.
Collecting parcels from the postal service
The PostPunt that you can find in the store is completely new. "Because of corona, more and more people are ordering online. There is only one PostPunt in Lauwe, so we wanted to capitalise on that", Ula says. "But, without any doubt our greatest asset is the friendly and thoughtful service. The team is ready every day to welcome the customers personally and to serve them with a smile. Occasionally, we get help from students who get their first work experience in a nice environment."
Local specialities
In addition to an adapted shopping assortment, the team of Spar Compact Lauwe also collaborates with producers of delicious regional products. "For example, coffee lovers can discover the local "Grootmoeders Koffie" and we also have the regional beer 'Noë' on offer, for people who like to have a beer from time to time", Ula adds.
Interesting actions
Spar Lauwe is looking forward to receiving its customers in the renewed store from 10 March. Moreover, there are many interesting promotions planned for customers that month on top of the existing promos and coupons in the Spar folder. Of course, all corona measures in force will be complied with.
---
Contactinformation
​Ula Skwark, independent entrepreneur Spar Lauwe
​+32 (0)56/42.59.23
Silja Decock, Colruyt Group press officer
​+32 (0)473/92.45.10
​[email protected]
Practical information
​Spar Lauwe: Wevelgemstraat 35A
​8930 Lauwe
Opening hours
​Monday: 13:00 - 20:00
​Tuesday to Saturday: 8:00 - 20:00
​Sundays and holidays: 8:00 - 13:00
---
Spar Colruyt Group
​The more than 200 Spar stores are welcoming convenience stores run by skilled independent proprietors, each with their own way of making their store unique. They are located in town or city centres and stand out thanks to their fresh products, competitive prices and range of delicious food. The retail space in the stores varies from 300 to 1,200 m². Visit mijnspar.be for more information.
Retail Partners Colruyt Group
​Retail Partners Colruyt Group is the licence holder of Spar Colruyt Group in Belgium. It cooperates closely with more than 200 independent Spar entrepreneurs: apart from deliveries, it provides full support and a unique consultation model based on partnership. Retail Partners Colruyt Group also supplies fresh products and groceries to Alvo stores. The independent organisation buys and transports the goods and gives advice about assortment and promotion management. Finally, Retail Partners Colruyt Group supplies products to 120 independent retailers, including 31 Mini Markets. More information at retailpartnerscolruytgroup.be.