Renewed butcher's department and brand new Collect&Go collection point in Colruyt Westmalle
The brand new Collect&Go collection point now also makes online shopping possible in Westmalle
Monday, April 11, 2022
Last autumn, the Colruyt Lowest Prices store in Westmalle was already given a thorough renovation. On Wednesday 13 April 2022, the renewed butcher's department with self-service and a brand new Collect&Go collection point opens as well. This completes the full renovation of Colruyt Westmalle.
Renewed butcher's department with open workshop
The temporary butcher's department with pre-packed products that opened in November has made place for a butcher's department with self-service. "Our butchers cut the meat on the spot, pack it in handy portions and arrange everything conveniently in a self-service counter", store manager Ellen Mertens explains. You can also see the qualified butchers at work now thanks to an open workshop. This makes them especially easy to contact for questions or orders.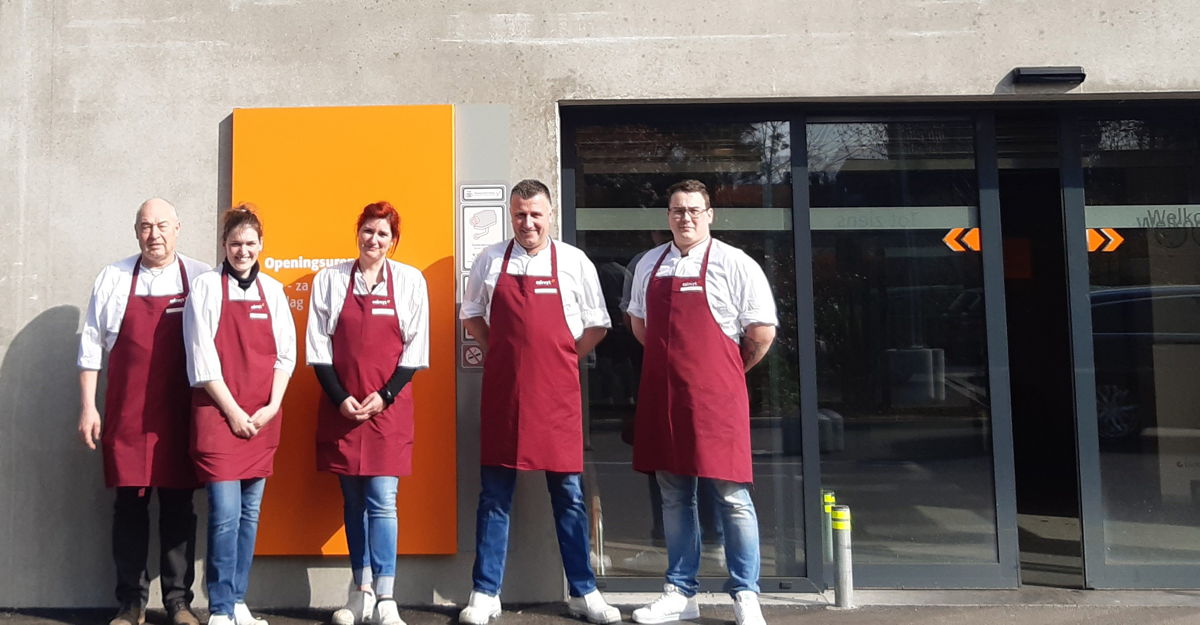 Collect&Go does your shopping
The brand new Collect&Go collection point now also makes online shopping possible in Westmalle. Collect&Go is Colruyt Group's handy online shopping service. Customers send their shopping list to collectandgo.be or the app, and the co-workers have their products ready at the collection point on the day and time of the customer's choice. Payments at the collection point can be made electronically by bankcard or meal vouchers, mobile or with the Xtra payment card.
The team is ready for you
Ellen Mertens: "My co-workers and I look forward to welcoming you to the renovated butcher's department. I am convinced that shopping at Colruyt Westmalle is now even easier and more efficient. Moreover, with the new Collect&Go collection point, we can now also meet the needs of the online shoppers."
---
Contactinformation
​Eva Biltereyst (Colruyt Lowest Prices press officer)
​+32 (0)479 72 29 10.
Frederik Budts (regional manager)
​+32 (0)2 345 23 45
Practical information
​Colruyt Westmalle
​Antwerpsesteenweg 335
​2390 Westmalle
Opening hours
​Mon - Sat: 8.30 am - 8 pm
​Fri: 8.30 am - 9 pm
---
About Colruyt Lowest Prices
​Colruyt is Colruyt Group's Lowest Prices supermarket. The store chain has been guaranteeing the lowest price for each product at any moment for more than 40 years now. Customers can find about 10,500 food and 7,500 non-food products, from fresh fruit and vegetables and meat to cleaning and care products. Colruyt also stands out by its simplicity, efficient shopping and efforts in the field of sustainability. The chain operates 248 stores in Belgium and the Grand Duchy of Luxembourg and employs more than 15,000 people. Customers can also order their purchases in the Colruyt web shop and pick them up in about 221 Collect&Go collection points.
About Collect&Go
​Collect&Go, Colruyt Group's online shopping service, was set up in 2000 and is the market leader. The professional service aims to make online shopping as easy as possible, offering reliable convenience, high-quality fresh products and a personal approach. Customers order their shopping online from Colruyt and Bio-Planet. Online orders are dealt with in stores or in the purpose-built distribution centres in Zaventem and Erpe-Mere, where around 350 co-workers pick the products with the utmost care. Reservations made before midnight, are available to clients as from the next day, at a pick-up point and at a time of their choice. Collect&Go has an extensive network of over 200 pick-up points across Belgium and Luxembourg, and is continuing to invest, so there is always one in the neighbourhood. Visit collectandgo.be for more information.