Colruyt Group's food formulas predict six food trends for this holiday season
Thursday, December 8, 2022
Think of the holiday season, and you think of a festive meal. Colruyt Group's supermarkets - Colruyt Lowest Prices, OKay, Bio-Planet, Spar Colruyt Group and CRU - reveal the main holiday season trends to adorn your table. From amuse-bouche to digestif, the classics, but also surprising newcomers. All of that with your budget in mind. These are the six most striking trends at the party table.
Trend 1: classics with a twist
This holiday season, the classics remain very much appreciated. Of all Belgians who go for sparkling wine or champagne, 50 % make a toast with a glass of Cava, although Prosecco is currently the strongest grower. "With the aperitif, we prefer to serve the classic crisp flavours," knows Liesbet Mesdom, category manager Fresh and Frozen at Colruyt Lowest Prices. "Followed by oven snacks and other ready-to-use aperitif snacks. Our customers buy these well in advance and like to taste them beforehand. Last year, Colruyt Lowest Prices sold 25 % more fresh appetisers and over 30 % more frozen appetisers over the Christmas period.We expect this trend to continue this year."
As a main course too, all the classics are lined up, albeit with some creative variations. At Cru, the traditional stuffed turkey and turkey breast roast are made with a premium filling with pistachio nuts, mushrooms, truffle juice and cognac in addition to pure turkey and pork mince. Those who want to eat gourmet or fondue will find new variations on the classic dishes at Colruyt Lowest Prices: vegetarian or with fish. Adding up all gourmet and fondue meat trays, the retailer sold no less than 300 tonnes last year.
The main course is often accompanied by croquettes. Of all the known varieties, Colruyt Lowest Prices sells 1.6 million kg each year, of which more than one fifth in December. Croquettes with a more special filling are on the rise and are included in our offering, e.g. croquettes with truffle or sweet potato at Colruyt Lowest Prices. With meals, Bordeaux wine is an all-time favourite and classic lagers and winter beers are gaining in popularity. As a digestif, whisky continues to score well.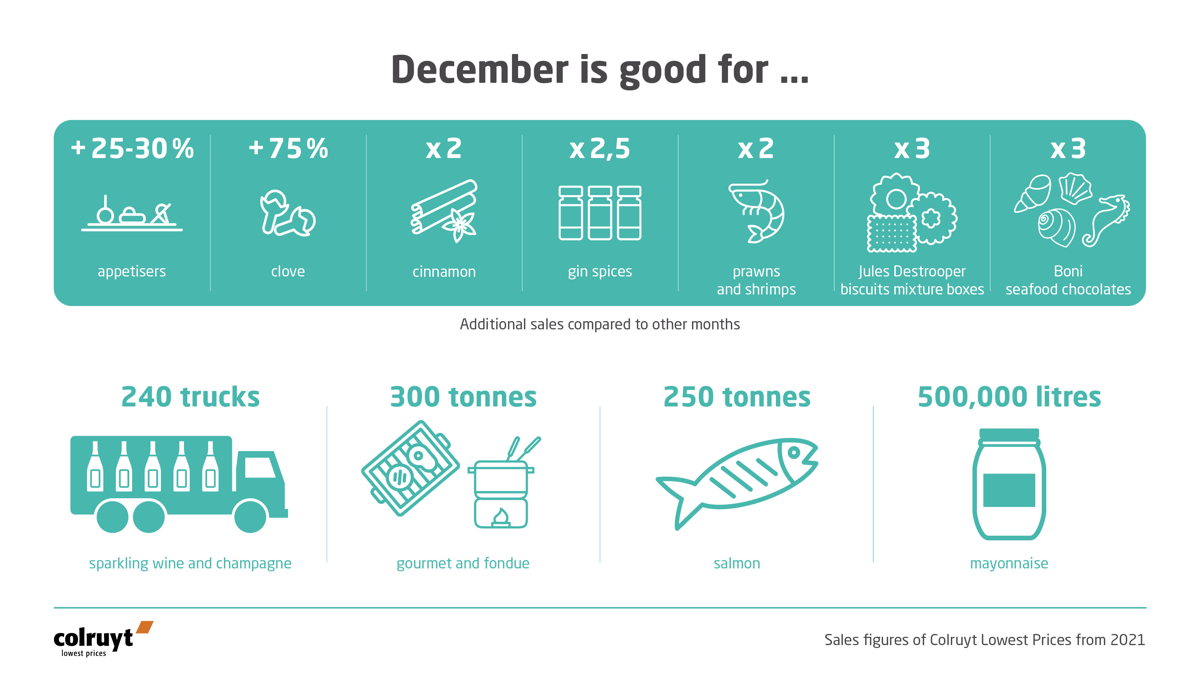 Trend 2: easy does it
If last year's holiday season was still overshadowed by Covid, this year we are once again celebrating together in bigger groups. To spend more time together and less time in the kitchen, customers like to opt for easy solutions such as ready-made dishes, meals or even entire menus.
Our independent Spar entrepreneurs prove that these options are not necessarily less original. They give personal advice to the host or hostess to add their own touch to the banquet and put together tailor-made dishes. This year, Spar also launches a product innovation: the pre-opened oysters. These make the classics more accessible to home chefs.
Ready-made menus are an ideal solution to save maximum time. Last year, local supermarket OKay sold more than 23,000 of them. This year, it is also making several festive caterer dishes available separately so that customers can create their own ready-made menu à la carte in addition to the three fixed formulas.
For those who still want to do their own cooking, but still want to save the research, Colruyt Lowest Prices is launching two 'fresh boxes' for the first time: handy boxes with all ingredients including the recipe. The Colruyt butchers also prepare ready-made dishes as usual. With individual dishes, or complete menus starring turkey.
Trend 3: budget-friendly parties
With many families' budgets under pressure, they are increasingly looking at how to keep the holidays affordable. Colruyt Lowest Prices guarantees the lowest prices by default, and now also inspires customers with useful saving tips. All this to prove that a good party does not have to be expensive. Colruyt Lowest Prices advises its customers to stock everything they can buy in advance during special actions, such as frozen foods and drinks.
It also pays to find the balance between premium products and budget-friendly ingredients, and between famous brands and private labels.From Boni appetisers to go with the aperitif to Everyday mascarpone in tiramisu. When it comes to making a toast, Colruyt Lowest Prices offers a range of 27 champagne references: from basic quality to champagnes from the major houses. The most budget-friendly choice is Comtesse de Gramont. Find more saving tips on colruyt.be/slim-besparen.
Trend 4: superior products
To keep the pressure on family budgets under control, customers are going for less is more: quality over quantity, Cru has noticed. For superior products, our experience market is top of mind, according to last year's sales figures. In December 2021, orders rose by almost 3 %, accounting for a 10 % increase in sales. Consequently, the best-selling products in December 2021 were true classics such as scallops, smoked Scottish salmon and Canadian lobster. The ready-to-eat catering dishes and meals are easy to finish with a home-made finishing touch such as a nut topping or herb butter. Customers also find luxurious snacks there, that require no work: from homemade gravad lax (marinated raw or lightly smoked salmon) and traditionally made gingerbread, to hand-cut Spanish Belota ham. An experience in itself are the extra meaty oysters in an original tasting box with four very different flavour experiences. At Cru December is good for 20 % of the entire annual turnover in the fish metier. For oysters that is 50 % of the annual turnover.
Those looking for quality and craftsmanship can also opt for Bio-Planet's gourmet dishes with exquisite organic meat. Although there is no organic game on the market - it cannot be controlled - the organic shop made the conscious choice to offer game as well. It resolutely goes for high-quality cuts of pure products that also fit perfectly into its animal welfare and ecosystem philosophy. The pheasant and roebuck pâté, for example, comes from Le Cochon d'Or, a family-run traditional farm in Anderlecht. For dessert, too, customers can choose pure and Belgian. IJs René's ice cream pralines and Christmas buche - traditionally-made ice cream from De Haan based on organic farm milk - are an absolute hit.
Trend 5: toasting without alcohol
Alcohol-free aperitifs or low-alcohol drinks have been on the rise for a long time. This is no different during the holidays. In addition to fresh fruit juices, consumers are increasingly consuming festive drinks such as Nona, ginger beer, elderflower soft drink or Schweppes and Fevertree's premium mixers. Alcohol-free bubbly and wines, such as Vintense, are also popular. Colruyt Lowest Prices already offers 22 references of alcohol-free beer and 54 alcohol-free wines and aperitifs. The supermarket also welcomed nearly 80 new non-alcoholic soft drinks in recent years. With festive non-alcoholic drinks such as Anaperitivo, MocktailClub, Bôtan and Suivie, Cru is also jumping on the alcohol-free bandwagon. And Bio-Planet expands its Gimber range with a passion fruit version and one based on yuzu and lemon thyme with 50% less sugar. ​
Trend 6: plant-based and sustainable
Partying together also means taking everyone's food preferences into account. Fortunately, you can now find plant-based or more sustainable alternatives for every part of the banquet. For instance, the range of vegan snacks is constantly expanding. These include the seasticks or mini sausage rolls from Belgian company BonMush. Both based on oyster mushrooms, and available at Colruyt Lowest Prices. Or the new varieties of vegan humus and seaweed croquettes at Bio-Planet. The latter are an ideal alternative to the popular cheese and shrimp croquettes that are certainly not inferior in taste. Among the aperitif snacks, we also see cricket flour-based crackers. Insect food is nutritionally equivalent to meat but with the environmental impact of plants. So a perfect alternative source of protein.
As a meat alternative in main dishes, home chefs can opt for a veggie gourmet dish (available e.g. at Colruyt Lowest Prices), vegan seitan rolls (Bio-Planet) or mushrooms. Recently, Bio-Planet started selling oyster mushroom, eryngii and nameko, grown on the bread scraps from stores. A circular chain that prevents food waste.
Also good news for fans of savoury dessert: the range of vegetable cheese alternatives is expanding. Currently, some 15 % of the cheeses at Bio-Planet are plant-based and that number continues to grow, with, for example, Ghent-based Omage's products based on fermented cashew nuts, French company Jay & Joy's vegan variant for blue cheese, and Fervena's creamy alternative with nuts and Provence herbs.
In the sustainable sweets category, Cabosse's 'upcycled' praline stands out. For the filling, in addition to the pulp of the cocoa fruit, the fruity flesh around it is also used. This way, the cocoa bean is put to its best use. And that with respect for the cocoa farmers and nature. Good for gold at the ISM fair: the 'world chocolate championship'. On sale at Colruyt.
Want to know more? Please contact the press office of Colruyt Group.