Brand-new sustainable Colruyt in Schaerbeek (Av. de Roodebeek):
New Collect&Go, extended refrigerated aisle and more parking spaces
Monday, November 6, 2023
On Wednesday 8 November 2023, the new Colruyt Lowest Prices in Schaerbeek (Av. de Roodebeek) will open its doors after 18 months of works, on the same site as the old shop. What's new? This brand-new building, which is larger than the old one, has a vast underground car park, a brand-new Collect&Go collection point, a wide range of drugstore products and an extended fresh aisle. To serve its customers even better, the Schaerbeek shop has taken on four additional staff members.
Optimised space and a modernised butcher's aisle
The new Colruyt in Schaerbeek (Av. de Roodebeek) is a large shop offering a wide range of quality products at the best prices. Manager Sébastien Coster has the following to say: "With more than 2,000 m² of retail space, almost 300 m² more than before, this new Colruyt has a much larger fresh aisle than before, where customers can find fruit and vegetables, fresh fish, cheese, veggie products and ready meals." Customers also have a great choice of meat and charcuterie in the brand-new butcher's aisle, where they can also discover our new delicatessen range. There really is something for every taste and budget.
Collect&Go does customers' shopping for them
Colruyt is constantly looking for ways to improve its customers' shopping experience. As such, the new store now features a Collect&Go collection point. This is located in the brand-new underground car park. Collect&Go is the handy shopping service provided by Colruyt Group. Customers submit their shopping list via collectandgo.be or on the app, and employees then prepare their products in the collection point, ready for their chosen day and time.
State-of-the-art shop incorporated in a housing development
The new Colruyt in Schaerbeek (Av. de Roodebeek) occupies the ground floor of a building that also houses three levels of flats. The underground car park is a real asset for customers when it rains. And with a lift and travelator, they can easily reach the shop. The shop is also equipped with thirteen bicycle racks and six electric vehicle charging points on levels 0 and -1.
Supporting sustainability
The entire design of the new building in Schaerbeek (Av. de Roodebeek) is based on one of the Colruyt Group's key values: sustainability. First of all, the shop is equipped with solar panels to supply it with green electricity. It is also a low-energy building in every respect: heating, refrigeration, lighting and insulation. We even heat this shop without fossil fuels. We recover the heat produced by our refrigeration system. What's more, this facility uses propane as its refrigerant, a gas that contributes virtually nothing to the greenhouse effect, enabling us to reduce our CO2 footprint by almost 90%. In addition, thanks to motion detectors, the energy-efficient LED lighting only switches on when necessary, saving a further 30% in energy. Finally, the insulation is of a higher quality than the legal standards. As a result, the shop has received an excellent energy rating.
Open evening
Manager Sébastien Coster concludes: "My team of 35 co-workers, eight butchers and I, can't wait to welcome our customers. We're inviting them to get a sneak preview of their brand-new shop at our open evening on Tuesday 7 November. Everyone is welcome!"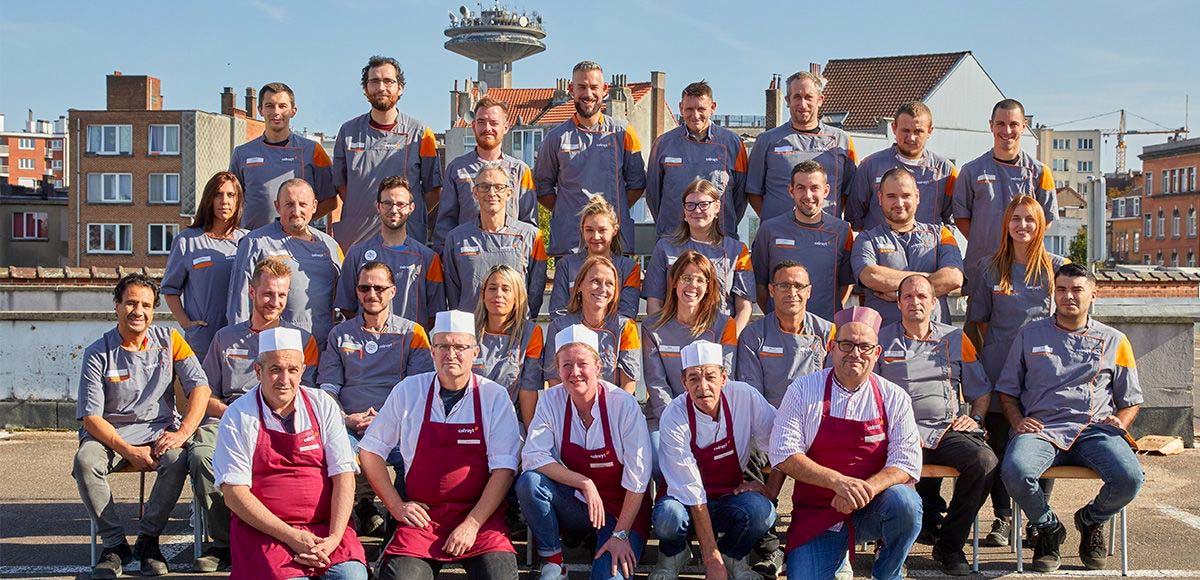 ---
Contactinformation
​Maximilien Habran (Regional Manager) on +32 (0)2 345 2345.
​Hanne Poppe (Colruyt Lowest Prices Press Manager) on +32 (0)479 72 29 10.
Practical information
​Colruyt Schaerbeek
​Avenue de Roodebeek 17
​1030 Schaerbeek
​
​Opening Hours
​Mon - Sat: 8.30 am - 8 pm
​Fri: 8.30 am - 9 pm
---
About Colruyt Lowest Prices
​Colruyt is Colruyt Group's Lowest Prices supermarket. The store chain has been guaranteeing the lowest price for every product at every moment for more than 40 years now. Customers can find about 10,500 food and 7,500 non-food products, from daily fresh fruit, vegetables and meat to cleaning and personal hygiene products. Colruyt also stands out by its simplicity, efficient shopping and efforts in the area of sustainability. The chain operates about 240 stores in Belgium and the Grand Duchy of Luxembourg and employs more than 15,000 people. Customers can also order their purchases in the Colruyt webshop and have them delivered at home or pick them up in more than 200 Collect&Go collection points.