Spa Colruyt Group opens renewed Spar Eke on 25 August
The local supermarket strongly expands its assortment of fresh.
Monday, August 22, 2022
The renewed Spar store in Eke will open its doors on Thursday 25 August. In addition to a fresh look, the store also received a bigger surface, that is used for an even broader offer of fresh products, among other things. The renewed store is run by two experienced store managers with a passion for their trade: Celine Van Laecke & Mathias Sarrazin. On busy moments, their team of 15 fixed co-workers will be complemented with flexi-jobbers and student workers.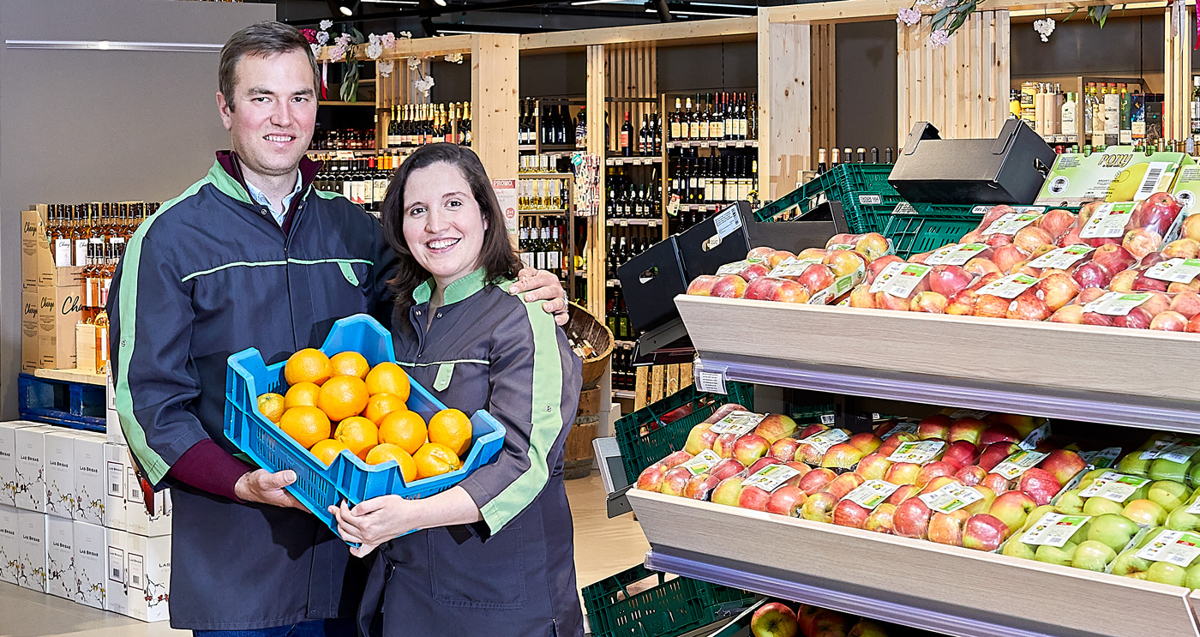 Focus on an even broader assortment of fresh products
From May, Spar Eke was thoroughly renovated, but the store remained open during the renovations. From 25 August, the customers of Spar Eke will be welcomed in a modern neighbourhood supermarket with a bigger store surface (250 m2 extra). "This means that we will have room for an even broader and more clearly presented assortment of fresh products", Celine says. "Our fresh departments are really the showpiece of the store. We also provide an actual fresh-island, where you will always be able to find a co-worker who can offer a word of explanation or who you can have a chat with."
A love for local
For years, Spar Eke has been cooperating with some suppliers of local products. You will for example find potatoes from Nazareth, strawberries from Deinze en cherries from Nevele there. "Of course, we also have our organic cheeses from Het Hinkelspel, of which we are very proud!" Celine concludes enthusiastically.
Real family business
Celine and Mathias have been running Spar Eke since January 2015. "My parents were the store managers of a Spar supermarket and I knew very early on that I also wanted that", Celine says. After a career as a project manager in construction, her husband Mathias also made the transfer to the store. "During the rebuilding, he took on the site coordination. Being the son of farmers, he also has a great affinity with local products, he knows their origin like no other." Celine's father delivers home-made, fresh dishes to the store every day, and their daughter can also often be found in Spar Eke. A family business in the truest sense of the word!
Service with a smile
The biggest asset of Spar Eke is undoubtedly the friendly and thoughtful service. The team has many experienced and loyal co-workers, that are ready every day to welcome customers personally and help them with a smile. From time to time, they are reinforced by student workers.
The environmental card
Just like the other Colruyt Group store formulas, Spar is firmly committed to building sustainably and with a minimal ecological footprint. At Spar Eke as well, the environmental card was played. The new cooling system is much more environmentally friendly, the released heat for example is recovered.The system has a ​ CO2 emission that is 90% lower in comparison to a traditional cooling installation. The refrigerators in the store now almost all have doors. Furthermore, the entire renewed car park was constructed in a permeable manner. Soon, the complete roof will be covered with solar panels.
Festive actions for the opening
On Saturday 27 August, there is a festive opening reception from 16h to 19h. Everyone is welcome to come get acquainted with the renewed store and enjoy some tasty and free chips and drinks. During the opening week, there will be a special folder with many nice discounts.
---
Contactinformation
​Celine Van Laecke & Mathias Sarrazin, independent entrepreneurs Spar Eke
​+32 (0)93858165
Colruyt Group press office
​+32 (0)23635545
​[email protected]
Practical information
​Spar Eke
​Steenweg 131
​9810 Eke
Opening hours
​Monday: 13:00 – 19:00
​Tuesday - Friday: 8:30 – 19:00
​Saturday: 8:30 - 19:00
​Sunday: 7:30 - 12:00
---
About Spar Colruyt Group
​The more than 200 Spar stores are pleasant local supermarkets, run by skilled independent entrepreneurs who make their store unique by means of their own touches. They are located in village or city centres and distinguish themselves by their fresh products, sharp prices and the love of good food. The store surface varies between 300 and 1,200 m². More information at mijnspar.be.
About Retail Partners Colruyt Group
​Retail Partners Colruyt Group is the licence holder of Spar Colruyt Group in Belgium. It cooperates closely with more than 200 independent Spar entrepreneurs: apart from deliveries, it provides full support and a unique consultation model based on partnership. Retail Partners Colruyt Group also supplies fresh products and groceries to Alvo stores. The independent organisation buys and transports the goods and gives advice about assortment and promotion management. Finally, Retail Partners Colruyt Group supplies products to 120 independent retailers, including 31 Mini Markets. More information at retailpartnerscolruytgroup.be.