Renovated Spar Colruyt Group in Lichtaart to reopen on 22 September
A shop with a heart for fresh and local
Monday, September 18, 2023
On Friday 22 September, the Spar Colruyt Group shop in Lichtaart will be opening its doors once again. For over 25 years, this friendly neighbourhood supermarket has been a permanent fixture in the city. The shop has now been fully renovated in the same style as the newest generation of Spar shops, with a strong focus on fresh and local. At the helm are brothers Luc and Guy Van de Poel, who are eagerly looking forward to welcoming customers once again.
Complete renovation and a unique Taste Bar
The familiar Spar shop on the roundabout on Poederleesteenweg in Lichtaart was closed for a few weeks for an extensive renovation. "The decision to renovate was based primarily on the need for more space. We wanted to offer our customers an even more enjoyable shopping experience, while giving our employees a more comfortable workplace," explains Guy Van de Poel, independent proprietor of Spar Lichtaart. He runs the shop together with his brother Luc and their mother, Martha.
The shop was completely stripped and 250 m² of extra shop space was added. The new layout makes it possible to offer an even larger selection of sliced meats, cheese, fresh fruits and vegetables. The bakery has also been expanded. In addition to all these changes, the renovated Spar has also been fitted with a unique signboard for the new 'Taste Bar'. "That's our experience bar, where we prepare delicious salads, pizzas and freshly squeezed juices," explains Guy. "We thought it was important to bring the tasting experience back into the shop itself."
More shopping convenience, seven days a week
Spar Lichtaart is also introducing new opening hours. These include opening a half hour earlier on weekdays than before (7:30 am instead of 8 am) and offering customers the possibility to come to the shop on Sunday mornings for their grocery needs, both big and small. As a result, Spar Lichtaart is now even more accessible – seven days a week.
They are also committed to improving convenience. The car park now has charging stations for electric vehicles and there is a covered bicycle parking area. Not only that, but like the other Colruyt Group shop formulas, Spar Lichtaart attributes considerable importance to sustainability. For example, there are new, energy-efficient refrigeration units in the shop and solar panels on the building that provide green energy.
Every inch a family business
The story of the Van de Poel Family dates back more than 60 years to the year 1961, when 14-year-old Martha Roes helped her mother out in their grocer's shop in Tielen. She later took over that business in 1969. When son Luc took over the Spark on the church square in Lichtaart in 1996 at the age of 25, Martha soon decided to lease out her own shop in order to help him out. In 2010, Guy joined the family business.
Today's Spar Lichtaart first opened its doors in 2011. So, in 2021, three anniversaries were celebrated: the 10th anniversary of the new Spar, the 25th anniversary of a Spar shop in Lichtaart and the 60th anniversary of Martha's contribution to the family business.
The company boasts a team of 20 permanent employees, a number of flex workers and an entire crew of fantastic student workers. Nearly all of them live in the area. "For us, the team is absolutely invaluable to our success. Our shop manager Martine and assistant Lotte form the perfect link between us and the team. Guy and I are utterly complementary, with Martha as our experienced right hand," says Luc. "So, it wasn't hard to come up with a good name, Martha's, for our own label for the shop's fresh products."
Martha's
That own label has guaranteed freshness and quality since 2019 – and is the focus of continued efforts in the renovated shop. "Customers can find a wide range of fresh and local products in the shop, such as rice pudding, chocolate spread, pudding, goat cheese, eggs, waffles, local beers, potatoes, ice cream, wine and more," adds Luc. "The range has been expanded considerably."
Festive opening with original gift
After three weeks of intense renovation work, the upgraded shop will be opening its doors for a festive reception on 21 September from 8 pm to 9 pm. Customers are welcome to join us for a bite to eat, drinks and a friendly atmosphere with food trucks and music. But that's not all...
"During the opening, we'll be presenting a historic book from the municipality of Kasterlee. As from 25 September, customers can take one home for free and start saving up for all the stickers in the book from 2 October," adds Guy. The shop will also have lots of special discounts during opening week, as featured in the special opening flyer.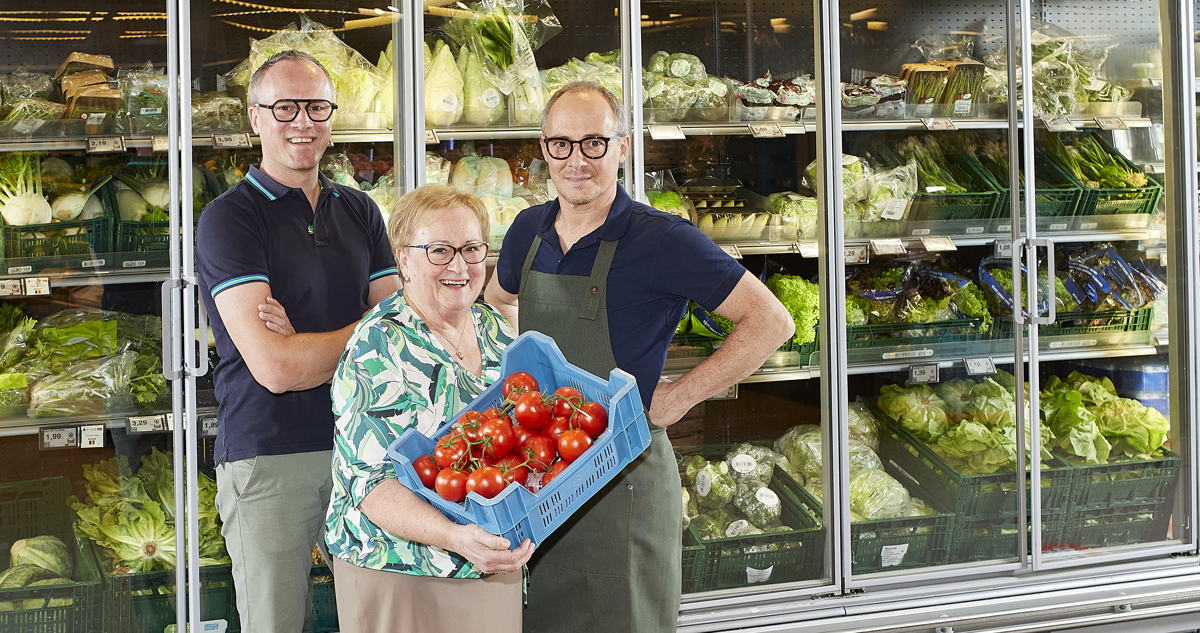 ---
Contactinformation
​Martha Roes, Luc Van de Poel and Guy Van de Poel,
​independent entrepreneurs of Spar Lichtaart
​+32 (0)14 55 66 19
Colruyt Group press office
​+32 (0)473 92 45 10
​[email protected]
Practical information
​Poederleesteenweg 6
​2460 Lichtaart
Opening hours
​Monday to Friday: 7:30 am to 7 pm
​Saturday: 7:30 am to 6 pm
​Sunday: 7:30 am to 12 pm
---
About Spar Colruyt Group
​There are more than 200 Spar shops, and they are all cosy neighbourhood supermarkets that are operated by skilled independent entrepreneurs who make their shop unique with a personal touch. They're found in city and town centres and distinguish themselves through their fresh products, unbeatable prices and passion for good food. The shops range in size from 300 to 1,200 m². More info at mijnspar.be.
About Retail Partners Colruyt Group
​Retail Partners Colruyt Group is the license holder of Spar Colruyt Group in Belgium. The Group works together closely with over 200 independent Spar proprietors, not only supplying them with products, but also offering comprehensive support and a unique consultation model based on partnership. Retail Partners Colruyt Group also provides fresh products and groceries to Alvo shops. The organisation of independent entrepreneurs is responsible for the purchasing and transport of the goods and provides advice on product ranges and promotional policies. Finally, Retail Partners Colruyt Group delivers to 120 independent retailers, including 31 Mini Markets. More info at retailpartnerscolruytgroup.be.