Renewed Spar Colruyt Group Maldegem De Linde opens on 23 February
Even more focus on home-cooked meals and on-the-go products
Monday, February 20, 2023
After renovation works, the renovated Spar Colruyt Group store in the centre of Maldegem will reopen on Thursday 23 February. The neighbourhood supermarket was completely renovated in the style of the latest generation of Spar stores, with great attention to sustainability and an attractive interior. Nele Soenen and Mike Goeteyn, the independent entrepreneurs of Spar Maldegem De Linde, can thus focus even more strongly on a pleasant shopping experience and on their wide range of fresh and quality products.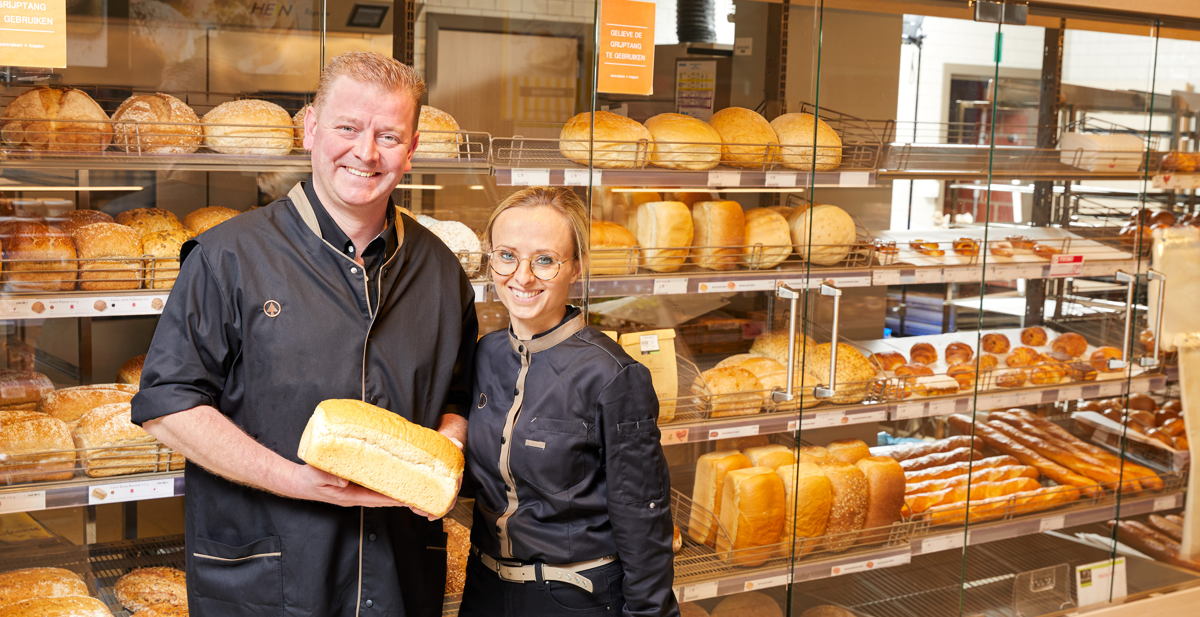 Renovation with an eye for sustainability
The renovated Spar store is ideally located on the market square in Maldegem, the beating heart of the community. As from Thursday 23 February, after a three-week closure, both loyal and new customers will again be able to visit the modernly designed neighbourhood supermarket where shopping convenience and sustainability go hand in hand. "Our store was severely outdated and no longer met today's environmental requirements and energy standards imposed by Colruyt Group", says Nele Soenen, who runs the Spar store in the centre of Maldegem with her husband Mike Goeteyn. "We want to do full justice to the green symbol in Spar's logo, so a thorough renovation was necessary." The building was completely gutted, and both the exterior and interior were given a major overhaul. With its modern, more eco-friendly refrigeration system, its new refrigerator cabinets with doors and the addition of solar panels on the roof, the shop has gained a lot of energy efficiency.
Even more focus on home-cooked meals and 'on-the-go'
When deciding the new Spar supermarket's interior design, the focus was on customers' shopping convenience. The updated interior creates a more spacious and open feel, and the extensive range of quality products is displayed more logically and conveniently. With, of course, always a significant focus on fresh products. "We can now showcase our home-cooked dishes, salads and meals much better. Also, in our new butchery department we can now give all the tasty cuts of meat their proper place. Something I as a trained butcher am obviously very pleased with", Mike Goeteyn says very enthusiastically. "In addition, you will find a large selection of daily fresh fruits and vegetables, and our range of quick takeaway on-the-go products is also more extensive than before."
Family character remains a great asset
Quality and freshness thus remain paramount in the renovated Spar Maldegem De Linde. Nele and Mike, together with their enthusiastic team, stay very much focused on customer-friendliness, service and a warm, homely atmosphere. "We are a young, dynamic family with a teenage son. The family feeling is very important to us", Nele says. "We also try to integrate that welcoming, family character into our business as much as possible. Of course, our customers can always come to us for information and advice, but we are just as happy to make time for a chat."
Opening reception with chips and a drink
On Wednesday 22 February, there is a festive opening reception from 5 p.m. to 8 p.m. Nele, Mike and their team will welcome their customers with a portion of chips and a drink, and they will gladly give a small tour of the renovated store. From Thursday 23 February, everyone can shop again. During the opening week, there will be a special folder with many great discounts.
---
Contactinformation
​Nele Soenen et Mike Goeteyn, independent entrepreneurs Spar Maldegem De Linde
​+32 (0)50 71 25 10
Colruyt Group press office
​+32 (0)473 92 45 10
​[email protected]
Practical information
​Spar Maldegem De Linde:
​Marktstraat 19,
​9990 Maldegem
Opening hours
​Mondays to Friday: 8 a.m. - 6.30 p.m.
​Saturday: 8 a.m. - 6 p.m.
​Sunday: closed
---
About Spar Colruyt Group
​The more than 200 Spar stores are friendly neighbourhood supermarkets run by skilled independent entrepreneurs, each with their own way of making their store unique. They are located in village or city centres and stand out thanks to their fresh products, their competitive prices and their passion for good food. The store surface varies from 300 to 1,200 m². More information at mijnspar.be.
About Retail Partners Colruyt Group
​Retail Partners Colruyt Group is the licensee of Spar Colruyt Group in Belgium. It works closely with more than 200 independent Spar entrepreneurs: not only supplying goods, but also providing full support and a unique partnership-based consultation model. Retail Partners Colruyt Group also supplies fresh products and groceries to Alvo stores. The independent organisation buys and transports the goods and gives advice about assortment and promotion management. apart from deliveries, it provides full support and a unique consultation model based on partnership. Finally, Retail Partners Colruyt Group supplies products to 120 independent retailers, including 31 Mini Markets. More information at retailpartnerscolruytgroup.be.