Renewed Spar Colruyt Group Lendelede opens its doors on 8 September
With even more fresh and local products
Monday, September 5, 2022
On Thursday 8 September, the renewed Spar Colruyt Group store in Lendelede opens. The supermarket was given a make-over with a special attention for sustainability and an atmospheric design.Tanja Beernaert and Koen D'Hulst, the independent entrepreneurs of Spar Lendelede, focus on a warm welcome of the customers and fresh quality products.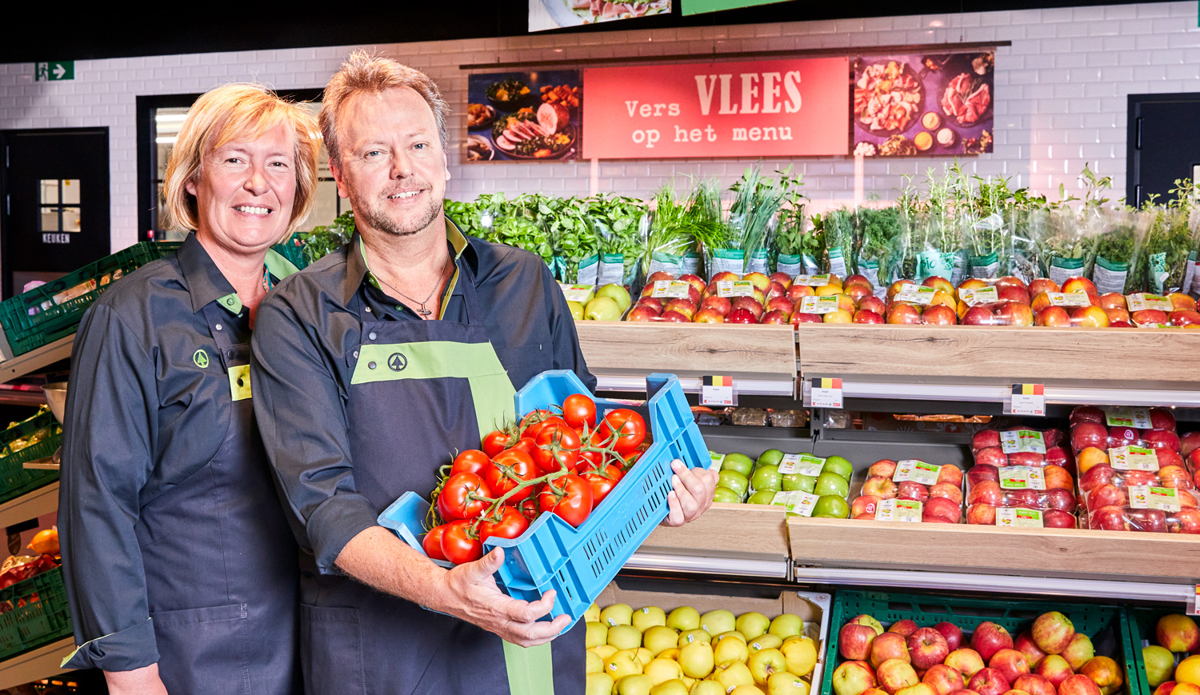 Focus on fresh and local offer
The plans for the renovations were started up already more than a year ago, but now the moment has arrived. The store was ​ given a new, fresh and more modern design, with a new layout, and an even stronger focus on fresh food. The biggest eye-catchers of the store are the completely new bakery department, the new check-outs, and the extensive wine department.
Tanja Beernaert en Koen D'Hulst have been Spar-entrepreneurs for over 28 years. After first running a small Spar store in Zwevegem, they took over the Spar store in Lendelede in 2006. The couple is eager to get back into the swing of things with their revamped store. "We are satisfied with the renewed design of our store and look forward to being able to show the final result to our customers. Our offer is still very extensive, with a special attention for fresh and local products. For example, we sell many regional products in our store, such as the beers of brewery De Meester, Seppe's Granola and other artisanal products such as jams and coffees", Tanja explains.
The biggest assets of Spar Lendelede remain the personal service and the low prices. Tanja, Koen and their team are ready every day to welcome customers personally and to serve them with a smile. Also, electronic price labels are now in use, so that the correct price is always displayed.
Focus on sustainability
Furthermore, Spar Lendelede has been renewed with sustainability and progress in mind. For example, the store is equipped with energy-efficient LED lighting and all cooling units are closed with doors, so that they lose less cold.
Festive opening
The team is happy to welcome back its customers on Wednesday 7 September with a bite and a drink during the opening reception. From Thursday 8 September, everyone can visit the trusted Spar store again. Moreover, many interesting actions are planned in that month on top of the existing promotions in the Spar folder.
---
Contactinformation
​Tanja Beernaert en Koen D'Hulst, independent entrepreneurs Spar Lendelede
​+32 (0)51 30 26 25
Colruyt Group press office
​+32 (0)473 92 45 10
​[email protected]
Practical information
​Stationsstraat 56,
​8860 Lendelede
Opening hours
​Monday: 14:00 - 19:00
​Tuesday to Friday: 8:30 - 19:00
​Saturday: 8:30 - 18:00
​Sundays and holidays: 8:30 - 12:00
---
About Spar Colruyt Group
​The more than 200 Spar stores are pleasant local supermarkets, run by skilled independent entrepreneurs who make their store unique by means of their own touches. They are located in village or city centres and distinguish themselves by their fresh products, sharp prices and the love of good food. The store surfaces vary between 300 and 1,200 m². More information at mijnspar.be.
About Retail Partners Colruyt Group
​Retail Partners Colruyt Group is the licence holder of Spar Colruyt Group in Belgium. It cooperates closely with more than 200 independent Spar entrepreneurs: apart from deliveries, it provides full support and a unique consultation model based on partnership. Retail Partners Colruyt Group also supplies fresh products and groceries to Alvo stores. The independent organisation buys and transports the goods and gives advice about assortment and promotion management. Finally, Retail Partners Colruyt Group supplies products to 120 independent retailers, including 31 Mini Markets. More information at retailpartnerscolruytgroup.be.