Following organic market revival, Bio-Planet opens store in Hannuit
11th store in Wallonia, 34th in Belgium
"We're a 100% sustainable supermarket with everything under one roof. Our customers greatly appreciate this approach" - Jan Van Holsbeke, Business Unit Manager Bio-Planet
Thursday, June 22, 2023
Bio-Planet is opening a new store in Hannuit on 21 June. After Tournai, which opened its doors at the end of March, Hannuit is the 11th store in Wallonia. The organic market is going through a revival and Bio-Planet has immediately responded to this. Bio-Planet's ultimate goal is to continue to inspire customers to consume more consciously, with quality products offered in quality stores. The store in Hannuit is a prime example of sustainability.
The organic market seems to have been rejuvenated after suffering major downturns throughout Europe. Bio-Planet's new store in Hannuit is focused 100% on better coverage and helping organic customers in Wallonia. After Jambes, Braine-l'Alleud, Corbais, Nivelles, Huy, Liège, Verviers, Charleroi, Tournai and Mons, Hannuit is the 11th store in the south of Belgium.
"Conscious consumption is definitely growing in the long term, slowly but surely. There's no stopping it. People are making the click, and so are policies. How long it takes until we're at COVID peak level again remains to be seen. But we're hopeful, during COVID, customers realised they could go to Bio-Planet for the full range. We help people to participate sustainably in a healthier planet and that starts by facilitating easy purchase and consumption behaviour." - Jan Van Holsbeke, Bio-Planet Business Unit Manager
Bricks vs Clicks
The target was always 50-60 stores, but the more there are, the more you look at the overlap. Consumer behaviour is changing and the question is: what is still needed in terms of bricks, versus clicks?? An interesting conundrum. Bio-Planet still sees growth potential, but also notes that customers are willing to drive further. Dutch-speaking customers from the Landen area are also expected to find their way to Hannuit.
"The group has great belief in Bio-Planet, although measures are also needed to continue managing everything well. We're in the process of becoming structurally sound. After all, the chain was Jef Colruyt's vision who felt the group needed a banner that goes 100% for sustainability, without too many restrictions. In short, Bio-Planet is our first name, Colruyt Group our surname. Within the group we have a pioneering role in terms of sustainability. This experience is then passed on to Okay, Spar or Colruyt Lowest Prices." - Jan Van Holsbeke, Bio-Planet Business Unit Manager
What's new?
---
Sustainable store: source of inspiration for customers
In the same way as Tournai, Bio-Planet Hannuit also recovers heat produced by cooling. This ensures that the heat generated by the cooling system is reused to heat the building. This means no gas connection is needed and no fossil fuels are used.
In addition to signs above each aisle that tell customers where they can find what in the store, there are also informative panels that navigate customers through all sustainability initiatives. Bio-Planet aims to constantly inspire and trigger its customers to consume consciously in this way. This includes the use of LED lighting which has reduced energy consumption by 30%, solar panels on the roof and a recycling hub at the store entrance where customers can deposit used batteries, Brita filters and the plastic film of their purchases.
A greenhouse uses the cooling of the adjacent cold store to ensure an optimum storage of fruit and vegetables. This eliminates the need for additional controlled cooling, which makes the building even more energy-efficient. Two power points on the car park allow customers to charge the battery of their electric bicycle during their visit. And last but not least the check-outs in the store have been given a second lease on life after they were used at Colruyt Lowest prices. More information is available here.
Reuse, reduce, recycle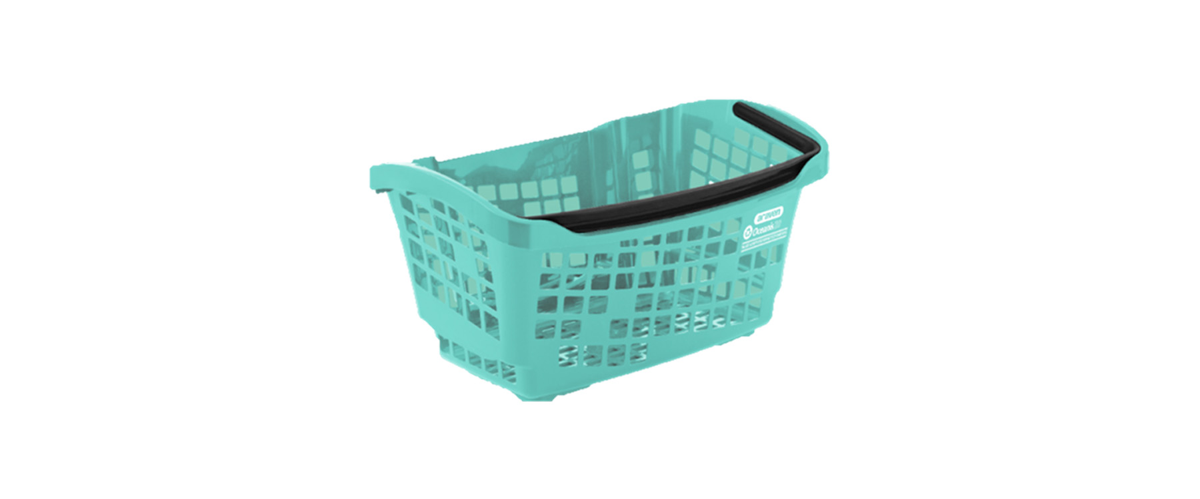 The shopping baskets also come with an interesting story. The new shopping baskets are made with recycled polypropylene, from plastic waste and used fishing nets in our oceans. More information is available here
Bulk and packaging-free purchases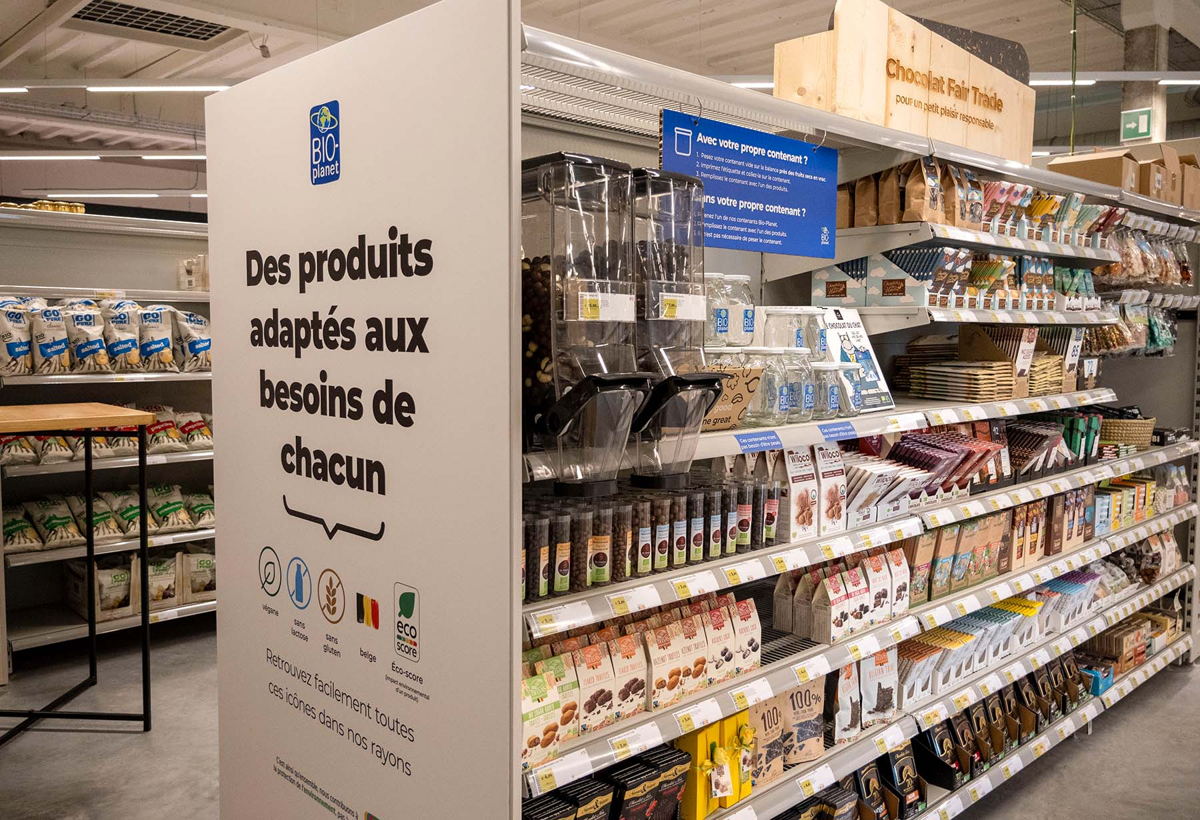 There's a strong focus on the share of bulk or packaging-free products, with the aim of cutting out unnecessary packaging and encouraging customers to consume packaging-free. Bio-Planet not only offers its assortment of fruit and vegetables without packaging, but you can also fill up jars or cans, which you can buy at Bio-Planet or bring from home, with as many nuts, grains, dried fruit as you like. The packaging-free sweet and savoury snacks include raspberries, chocolate and trail mix. The range of packaging-free coffee beans is new. There's a choice of three different types: Nicaragua, Ethiopia and Colombia.
"People are looking for unique products, but also expect a basic assortment with a good price-quality ratio. Bulk is also gaining importance in the range. We used to put the entire bulk offer together, whereas now we do it per assortment. The beans are now included in the coffee section, the breakfast cereals include bulk next to the cereal boxes. In the newest stores, like in Hannuit, we also bake fresh bread and have added pastry." - Jan Van Holsbeke, Bio-Planet Business Unit Manager
What else can you expect
At Bio-Planet Hannuit, the bread aisle now also includes cooled artisanal pastry, packaged conveniently in compostable boxes. The health & beauty corner has a broad selection of care products and cosmetics.
The service counter has an extensive offer of cheese, meat and sliced meat, but also numerous veggie and vegan alternatives. Do you follow a particular diet, do you have an intolerance or allergy, etc.? The store assistants are happy to help you. Did you know you can fill up your own jars at the service counter?
And anyone looking for a great (last-minute) gift has come to the right place in Hannuit. There are plenty of gift baskets chockabloc with quality products to choose from. Simply add flowers and a gift card for the perfect present!
---
Pratical information
​Rue de Huy 54 boite 11
​4280 Hannuit (Centre Commercial Orchidée Plaza)
32 parking spaces
​10 parking spaces for bicycles under canopy
​2 sockets for electric bicycles
​
​Bio-Planet Hannuit
​8 permanent staff, 4 student workers
​Net surface area 640m2
​5000 products
---
About Bio-Planet
Bio-Planet is Colruyt Group's 100% sustainable supermarket. In 2001, Bio-Planet opened its first store in Kortrijk. Today there are 34 shops spread throughout Belgium. Bio-Planet offers 5,000 organic, ecological, and environmentally friendly products and has everything you need to make conscious choices. From daily fresh organic fruit and vegetables, bread and spreads, meat and veggie over pasta and drinks to cleaning products, books, and care products. If you like sustainable, healthy and delicious pure food, Bio-Planet is the place to be! In addition, Bio-Planet has a wide range for people with intolerances (gluten, lactose ...).
All Bio-Planet products are selected with the greatest care in terms of organic cultivation, health, and ecological impact. Only what is made with respect for people and the environment ends up on the shelves. In short, the ideal shop for those who want to eat with taste while shopping sustainably.
Each shop has a Collect&Go collection point, Colruyt Group's online shopping service, where you can order and collect your organic groceries. In this way, Bio-Planet wants to make 'conscious consumption' accessible to everyone. With your Xtra card, every customer enjoys Xtra discounts every month.
Did you know that Bio-Planet and Colruyt Group Academy together offer inspiring workshops on organic food, well-being, and sustainability? More info via this link.