Five trends for the festive season
Colruyt Group's food retailers are each responding in their own way to the latest trends for the end-of-year festivities
Monday, November 13, 2023
Wat worden dit jaar de ingrediënten voor een geslaagd eindejaarsfeest? Bij tal van gezinnen zullen er klassiekers op het menu staan, met een hoofdrol voor de traditionele gevulde kalkoen. Tegelijk zien we meer en meer alternatieven opduiken, zoals een vegetarische gourmetschotel, of een nooit gezien aanbod feestelijke drankjes zonder alcohol. Maar wat er ook op het bord komt, Belgen maken het zich graag gemakkelijk en houden tegelijk het budget in het oog. De voedingswinkels van Colruyt Group zijn er alvast klaar voor, zo blijkt uit een rondgang bij Colruyt Laagste Prijzen, Okay, Bio-Planet, Spar Colruyt Group en Cru. ​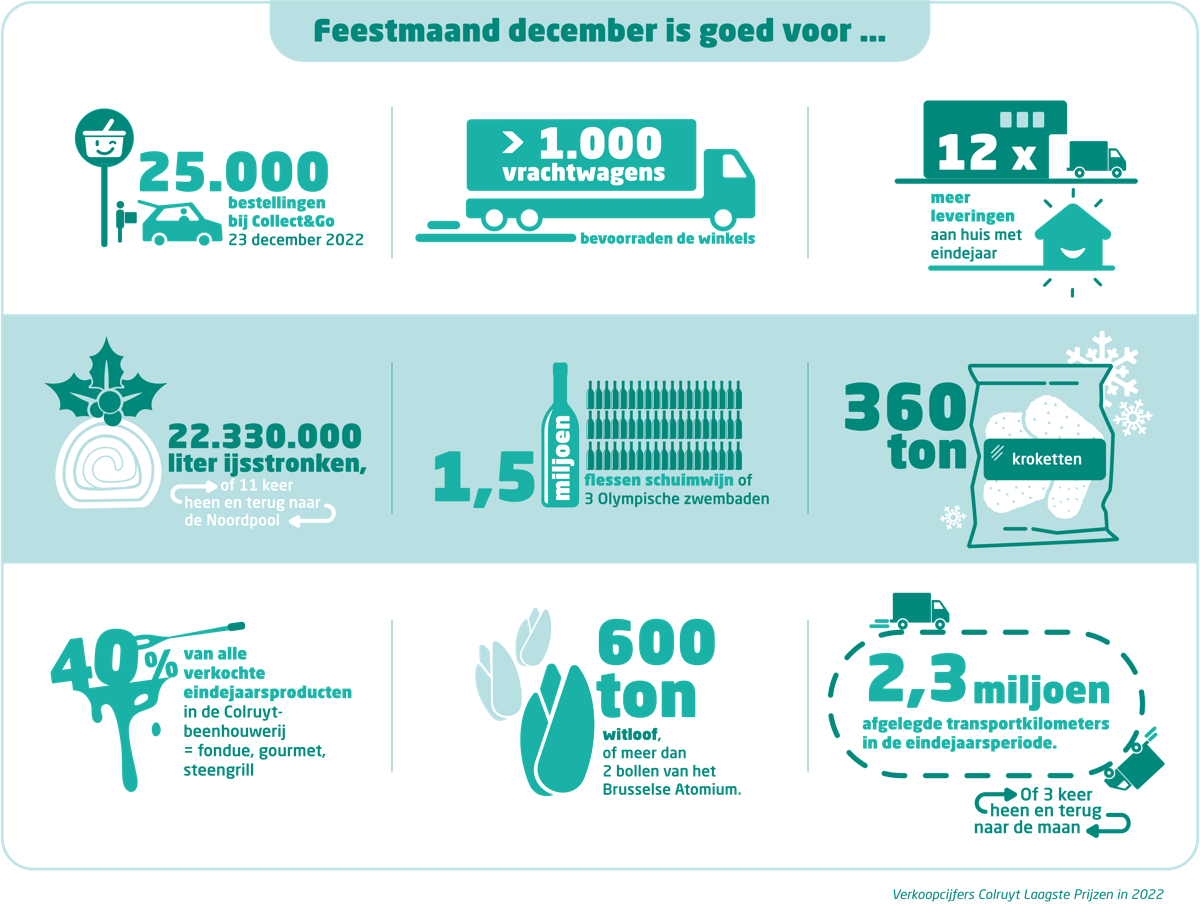 What will be this year's key ingredients that will make the end-of-year party a big success? Many families will serve up the classics, with the traditional stuffed turkey in the starring role. However, an increasing number of alternatives will also make an appearance, such as vegetarian gourmet platters and a novel range of festive non-alcoholic drinks. No matter what is served, Belgian people like to keep things simple, whilst also keeping an eye on their budget. A quick look around Colruyt Lowest Prices, Okay, Bio-Planet, Spar Colruyt Group and Cru shows that Colruyt Group's food stores are ready for the challenge. ​
Trend 1: the classics are still very popular
Culinary trends and preferences may be constantly evolving, but for traditional celebrations such as Christmas and New Year, customers often revert to the traditional classics. For example, although the total consumption of champagne shrinks during the year, Colruyt sells four to five times more champagne in December than in any other months. More than 50% of people these days raise their glasses with the more budget-friendly cava, while prosecco is also steadily increasing in popularity in recent years. Wine from Bordeaux also remains very popular at the festive table, selling up to four times more in December.
In December we double our sales of frozen scampi, with sales rising to 125 tonnes. Frozen or fresh oven snacks, especially the mini croquettes, also do very well, perfectly in line with the current trend of sharing platters. At Spar, they have seen a year-on-year increase in sales of oven snacks. The 10 + 10 promotion on oven snacks will therefore return this year. At Christmas, the turkey as a main course remains as popular as ever: whole, stuffed, fillet or roast. On New Year's Eve, the focus shifts to gourmet, fondue and stone grill, with meat, fish, poultry as well as vegetarian options. It's not a party without croquettes, that goes without saying. On average, Colruyt sells five times more croquettes than usual in December, while sales of frozen croquettes double, with sales rising to 360 tonnes. Over a third of all till receipts include ready-made dishes, with potato gratin leading the way, followed by mashed potatoes and apples stuffed with cranberries.
Game is another festive classic, and this year Bio-Planet once again offers fresh pheasant and venison, as well as artisanal ready-made dishes such as ragout and pâté. The meat is top quality, both in terms of taste, animal welfare and carbon footprint.
The multi-experience market Cru also recognises the classics and sells oysters, smoked salmon and starters such as fresh scallops, bouillabaisse and ravioli with truffles. Cru also sells European and Canadian lobster. New this year is the Crustastun technology which Cru uses to stun live lobsters before cooking them; a painless and more animal-friendly solution for this party classic.
Trend 2: convenience please!
Covid has highlighted the importance of being able to enjoy good food and good company for the end-of-year celebrations. Party hosts will find plenty of easy solutions at Okay to spend more time with guests and less time in the kitchen. These include a range of four three-course meals, offering meat, fish, poultry and vegetarian options, a kids' menu and two luxury menus with meat or fish. Over 18,000 of these meals were sold at the end of 2022, with the most popular combination being cream of tomato soup, curried scampi with poultry as the main course. In addition, Okay offers a wide range of delicatessen options from which to create your own menu. The three most popular dishes last year were venison stew, scampi in sauce and scallops.
At Colruyt, customers will also find a wide selection of ready-made platters, meals and easy delicatessen options, such as pre-cooked stuffed turkey. The fondue and gourmet range appears on more than 20% of all Colruyt's till receipts in December. In addition to individual items and complete platters, the butcher's shop is also offering an affordable gourmet box this year that also includes raw vegetables and potato salad in addition to meat.
Other Colruyt Group store formats are also making an effort at the end of the year to make their customer's life easier and avoid the stress of having to make choices. For example, Bio-Planet offers eleven inspiring festive recipes by top chef Seppe Nobels, featuring fish, meat, vegetarian or vegan, as well as gluten- and lactose-free alternatives. New this year are Fresh&Veggie's ready-to-eat side dishes, which include sweet potato, potato gratin, as well as pumpkin combined with apple dishes. ​
Multi-experience market Cru has put together some lavish dishes, such as an appetiser platter with cheese, cold meats and tapenades, or the seafood platters, available as tapas or as a main course with lobster. There is also a new range of warm appetisers and home-made mini sausage rolls. Cru also offers platters in collaboration with Belgian partners, such as the new meat gourmet platters by Dierendonck. For the cheese, fondue and raclette platters, Cru once again teamed up with the renowned Kaasaffineurs van Tricht.
And lastly, the independent Spar stores are reopening their online ordering platform with several stores offering a number of delicatessen options, often complemented by their own specialities. Many storekeepers attended workshops at the end of the year, to improve the advice they give to their customers on how to make the most of a cheese platter or dessert buffet. The aim is to relieve customers of any stress about making menu choices.
Trend 3: budget-friendly parties
As with previous years, there are many families who will want to enjoy the festivities without having to spend too much. Obviously, they are in the right place at Colruyt, which always guarantees the lowest prices anyway. ​ Our own brand Boni also offers quality products at an affordable price and is still popular with budget shoppers. For the festive period, Colruyt will offer quite a few real budget-friendly solutions, such as complete festive meals from €16 per person. A lot of the typical party food is now also available in customised quantities, such as smaller pieces of roast or wild boar medallions instead of an entire roast. Or slightly smaller cheese and shrimp croquettes or grey shrimps packed per 75 g, more than enough for a festive touch together with a soup starter or appetiser in a glass. For affordable celebrations, customers can also visit our neighbourhood supermarket Okay. They have ready-made three-course meals for 2 people at €40 or a kids' menu for just €10.
Trend 4: toast the season, alcohol-free!
Alcohol-free and low-alcohol drinks have also won their place at celebrations, as an aperitif, an accompaniment to the meal or as a thirst quencher. Colruyt currently sells about 25 non-alcoholic or low-alcohol beers, with five to ten more to come next year. Alcohol-free sparkling wines were exceptionally successful last summer and Colruyt expects that about 6% of all sparkling wine sold at the end of the year will be alcohol-free. There is also an increasing amount of high-quality non-alcoholic wines available, including the well-known J-P Chenet brand.
Sales of non-alcoholic aperitifs, mocktails and spirits have increased most in recent years. New arrivals at Colruyt include mocktails from The Mocktail Club, Nona Ginger and Vintense Mojito Royal, along with Gordon's Premium Pink 0% and Colruyt's own brand Marie Galante's Aperitivo Bianco and Rosso 0%. Tonics, meanwhile, are a regular feature in terms of aperitifs, and big names like Schweppes and Fever-Tree have launched new flavours. Bundaberg will also launch new varieties of its craft lemonades, and the well-known Gimber is now also available as a premixed drink in a can.
At Bio-Planet, the non-alcoholic range also continues to expand steadily, with an absolute first being the Sapinca elixir, based on organic roots and exotic fruits. Another special treat is the warm winter drink from juice producer Pajottenlander. Neighbourhood supermarket Okay will also highlight a lot of non-alcoholic alternatives and will inspire its customers with original mocktail recipes.
Trend 5: plant-based and sustainable
Partying in 2023 also means that party hosts are taking the different food preferences of all their guests into account. There are a lot of festive products on the market for vegetarians and vegans, and Colruyt Group's store formats are focussing on providing inspiration. Bio-Planet has the largest range for vegetarians and vegans, as well as those with food intolerances. New flavour bomb appetisers are the Brussels-based Madlab crackers which include leftover products from a bio-brewery.
As a main course, there will be vegan roast beef and roulade again this end-of-year. Some 15% of Bio-Planet cheeses already consist of plant-based alternatives, including the new end-of-year cheese Fermé with ginger and pistachio, as well as two new flavours of Fervena: a cashew spread with truffles and an aged version with black garlic.
New frozen desserts are Nat's Raw cakes: vegan and gluten-free, in caramel-chocolate and raspberry-passion fruit flavours. And making your own vegan tiramisu is now perfectly possible with mascarvone, a vegan alternative to the well-known mascarpone cheese. Because not everyone has the time to prepare a completely separate menu, Colruyt offers some easy-to-serve dishes, such as vegetarian oven snacks, a gourmet platter and, as a ready-prepared dish, veggie balls in cranberry sauce.
Easy gifts
A well-chosen gift can contribute to a memorable celebration. Cru's permanent product range already includes exclusive, premium products that are a gift in themselves. For instance, smoked salt from Mallorca, exceptional peppers from Madagascar or unique types of canned fish. Cru also offers gift boxes for every taste and budget. Last but not least, the florists are ready with their beautifully prepared festive bouquets of flowers, perfect as gifts for the host or hostess or as table decorations.
Colruyt has put together a new beer bucket containing 9 speciality beers for just under €15 or beer baskets containing 14 bottles for just under €25. For the first time on sale exclusively in Belgium, Colruyt also has the Unwrapp box with 8 cans of lager from national brands and its own brand Cara. All cans are wrapped identically and can be unwrapped after they are empty, ideal for a fun blind tasting session. Colruyt is also launching a Limited Edition beer box, containing 3 x 75 cl bottles that are perfect as aperitifs. Okay also has gift packs of various Belgian beers in its product range.
Colruyt is the only store where customers can put together their own gift packs with as many as 20 flavours of the popular Lindt Lindor chocolate truffles this year-end. Creating your own gifts is proving popular and customers can also fill their own gift baskets at Bio-Planet. They can choose from a wide range of products, including care products from Brussels-based Cîme, Habeebee or Weleda, and food items such as tea from Yogi, chocolate from Belvas and biscuits from Generous. Okay also has gift baskets available throughout the entire year, but they now include specific festive products such as wine and appetisers.