Fifth generation reopens new Spar Colruyt Group Achterbroek on Thursday 3 February
Ilona Costermans takes over her parents' business together with her brother-in-law Dennis.
Monday, January 31, 2022
Spar is opening a new shop in Achterbroek in the Kempen Region on Thursday 3 February. Ilona Costermans and her brother-in-law Dennis Dockx will manage the shop. They are succeeding Ilona's parents and will be the fifth generation at the helm of the shop. The shop will celebrate its 150 year anniversary in 2023, an amazing milestone. This is not just any local shop, this is a beautiful family business at the Kalmthoutsesteenweg 381 in Kalmthout. Over the years the shop continued to grow to the current floor area of 450 m2. But that's getting too small as well now. The managers have been meaning to modernise for some time and are therefore embracing the completely new Spar Colruyt Group concept. The emphasis will be on fresh products, an extensive bakery department and environmental-technical improvements. "Achterbroek is a growing village with young, dynamic people and we want to capitalise on this."
Family business with a history
Dennis Dockx and Ilona Costermans will be the new managers of Spar Achterbroek. The duo can count on a team of 7 full-time employees, most of whom are from Kalmthout, of which Achterbroek is a hamlet. Dennis is Ilona's brother-in-law and Ilona's parents ran the only supermarket in the village. That building will be demolished when the new building is finished. "My parents Herman Costermans and Lydia Ribbens were the 4th generation of my family to run this business, but soon they'll be passing the torch to Dennis and myself," says Ilona. "Now that we're moving forward with this renewed concept, they will stay around for a while to keep an eye on things. And we're very happy about that, the heart and soul of our family is in this shop." We would like to thank Herman and Lydia for the amazing work they have done over the years!
Nice and fresh
The works started last summer and they lasted until the beginning of February. The current shop remained open until Monday 10 January, after which it closed its doors to carry out the necessary works. About a month later, on Thursday 3 February, the brand new Spar Achterbroek opened. But how is the new Spar shop different from the current concept? "Spar stands for modernity. And that's a good thing, Achterbroek is also rejuvenating. We really are a vibrant community," says Dennis.
"The focus will be on fresh products. All the meat and cold cuts, for example, are cut and packaged on site. The fresh section with freshly prepared meals will be very extensive," Ilona explains. "But that's not all. Our bakery will also be a lot bigger than it is now, our dough will rise in the very latest proofing machines and we will bake in a rotary oven. This will allow us to provide our customers with delicious pastry (koffiekoeken) and fresh rolls every day. In addition, our extensive range of fruit and veg will also be given a prominent place in the shop."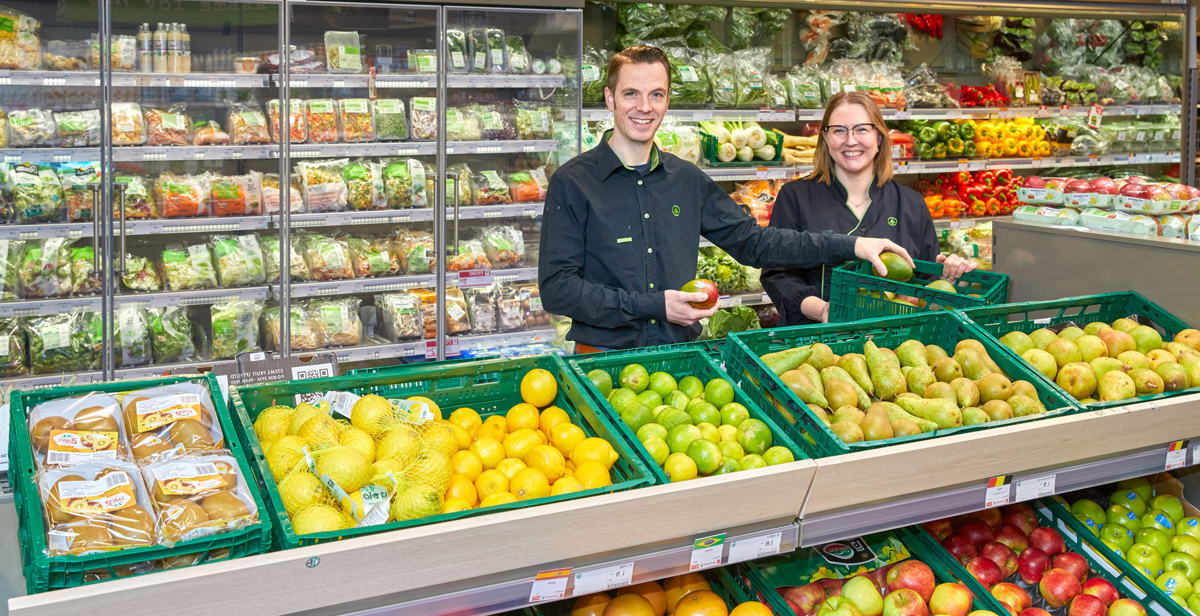 Sustainable equipment, with an eye for het environment
Spar Achterbroek is very committed to the environment. For example, an environmentally-friendly CO2 installation will cool all the refrigerators. In addition, every form of generated heat is recovered to heat both the shop itself and the sanitary water. Their local approach can also be seen in this environmental context. "We try to keep transports to an absolute minimum," says Dennis. "The fewer trucks on the road, the better for our planet."
Locally anchored
Of course, that's not the only reason why we work with local delicacies as much as possible. We've been running the shop for so long now and we're happy to support local entrepreneurs. For example, we sell yoghurt from a farm down the road, you can find greeting cards made by someone from the village, our range includes a delicious local beer and there is much much more," Dennis concludes. "People will have to come find out for themselves. To celebrate the opening, customers receive a free bottle of prosecco if they spend at least €35. Let that be an extra incentive to shop here", winks Ilona.
---
More information
Spar Achterbroek: Kalmthoutsesteenweg 381, 2920 Kalmthout

Dennis Dockx, independent storekeeper Spar Achterbroek: Tel. 0496 22 32 73

Ilona Costermans, independent storekeeper Spar Achterbroek: Tel. 0495 34 15 65

Hanne Poppe, press officer of Colruyt Group Tel.+32 (0)2 363 55 45
​Email:

[email protected]
Opening hours Spar Achterbroek:
​Monday: 12.30 – 19.00
​Tuesday to Friday: 8.30 – 19.00
​Saturdays: 8.30 – 18.00
​Sundays and public holidays: 8.00 – 12.30
---
Over Spar Colruyt Group
​The more than 200 Spar stores are welcoming convenience stores run by skilled independent proprietors, each with their own way of making their store unique. They are located in town or city centres and stand out thanks to their fresh products, competitive prices and range of delicious food. The retail space in the stores varies from 300 to 1,200 m². Visit mijnspar.be for more information.
About Retail Partners Colruyt Group
​Retail Partners Colruyt Group is the licence holder of Spar Colruyt Group in Belgium. It works closely with more than 200 independent Spar storekeepers: in addition to supplies, there is full support and a unique consultation model based on partnership. Retail Partners Colruyt Group also supplies fresh products and groceries to Alvo stores. The organisation for independent storekeepers is responsible for the purchase and transport of the goods and gives advice on the assortment and promotional policy. Finally, Retail Partners Colruyt Group supplies 120 independent retailers, including 31 Mini Markets. For more information, please go to retailpartnerscolruytgroup.be.