Colruyt Group opens shiny-new, sustainable office building in Zwijnaarde Technology Park
Thursday, October 13, 2022
Following an extensive and sustainable renovation, Colruyt Group opened a new office in Zwijnaarde in September 2022. In summer 2020, the group purchased the former head office of Thomas Cook, located nearby the Zwijnaarde Technology Park, just outside Ghent. The newly refurbished building now accommodates nearly 400 Colruyt Group employees. The site comprises 9,582 m² of office space and 261 parking spaces and replaces two previously rented offices in Deinze and Merelbeke. 2,000 m² of office space are also available for rent.
'Colruyt Group had been looking for a new regional office close to Ghent for some time,' explains Frank Hamelrijckx, Expansion Manager at Colruyt Group. 'While we were on the hunt for suitable premises, we temporarily hired office space in Deinze and Merelbeke. Having acquired the former head office of Thomas Cook and completed the renovation, we're now delighted that we can finally move into our new building. Zwijnaarde is the new place of work for nearly 400 employees of Colruyt Group IT, HR, Bike Republic, SmartWithFood and JIMS.' Colruyt Group is not occupying the entirety of the building with its own employees, with the right-hand wing of the site available for rent. This amounts to 2,000 m² of office space, together with 50 parking spaces.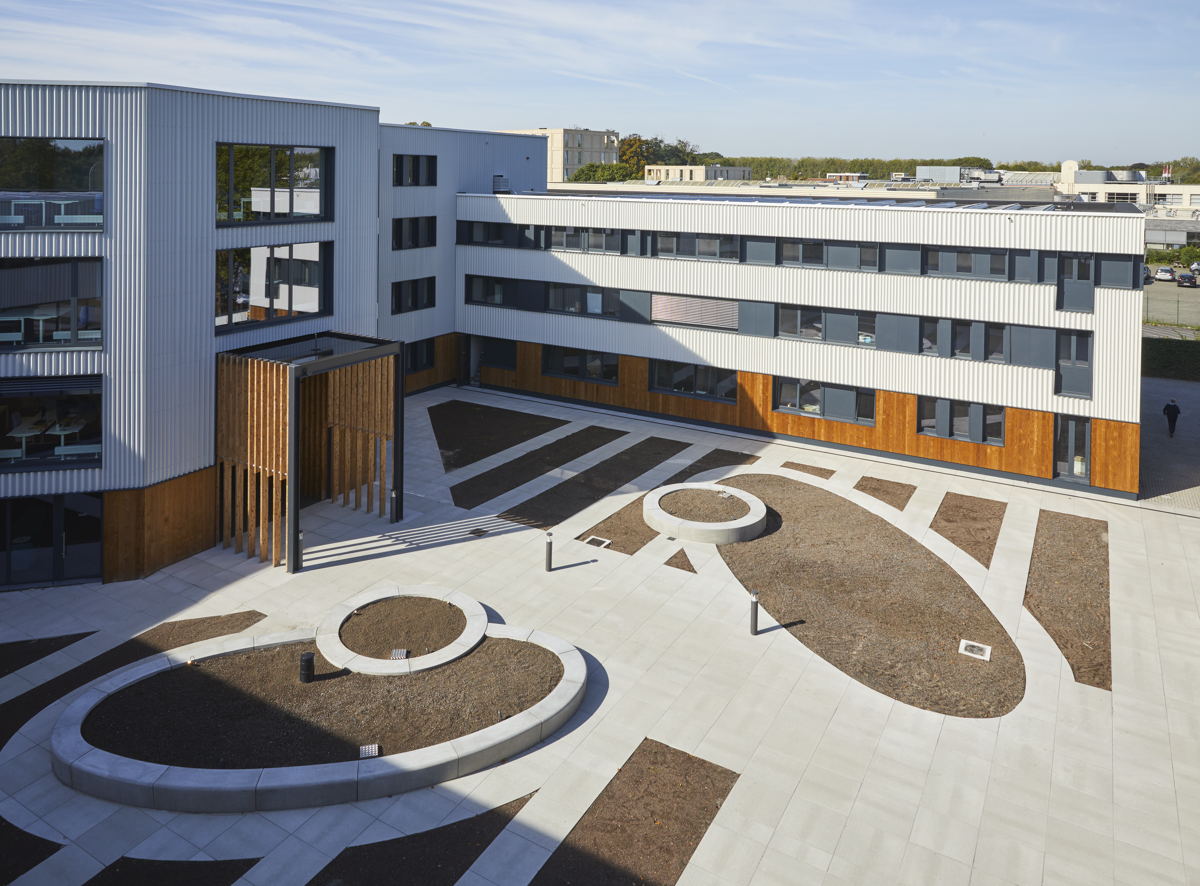 A spacious, modern place of work
Colruyt Group commenced renovation of the outdated building at the end of 2020, for which there was little more than a limited technical file and no digital plans. Following extensive structural work, the former inner courtyard area has been integrated into the building in order to create a maximum of office space on each floor, which amounts to a total area of 9,582 m². The modern decor matches perfectly with the style of all Colruyt Group buildings, while still retaining some of the older structures of the building. Colruyt Group opted for a colourful reception area and canteen, decorated with a number of different materials to give it an urban look and feel.
Outside, the terrace area at the rear of the site has been refurbished and extended. The forecourt now acts as an open meeting place. The site has 261 parking spaces, spread over 3 levels.
Sustainable renovation
'The office in Zwijnaarde has been renovated with the environment very much in mind,' explains Frank Hamelrijckx. 'The site is fully equipped with low-energy LED lighting. We collect rainwater in a large buffer tank and recycle it for use in the toilets. The former inner courtyard is now covered with a green roof of mosses, succulents and grasses. The rest of the roof has a total of 524 solar panels, which is enough to produce 186 MWh of electricity per year. The parking areas have enough DATS 24 electric charging stations for 48 electric vehicles to charge simultaneously.'
'We'll be dispensing with air-conditioning in the Zwijnaarde office in the summer months, instead opting for adiabatic evaporative cooling with water as the refrigerant – a low-energy alternative with no greenhouse gas emissions,' explains Hamelrijckx. 'The data rooms, which traditionally generate copious amounts of heat, are cooled by propane, a natural refrigerant with low global warming potential (GWP). We're also using heat recuperation to recover the heat from this cooling system to heat the remainder of the building. A heat-pump boiler, which is also powered by propane, is used to heat the water for the sanitary facilities.'
Max Mobiel shuttle bus for commuters
One of the site's indispensable assets is good accessibility by public transport and bicycle, with the F7 (Ghent-Kortrijk), F45 (Ghent-Kortrijk via Oudenaarde) and F40 (cycle ring route around Ghent) cycle routes all nearby, as well as a clear cycling route to the station. Hilde Schuddinck, regional director Voka Ghent, adds: "We are very pleased with Colruyt Group's arrival in Zwijnaarde. Ghent's South Mosaic is the thriving southern edge of Ghent, where technology, education, business and housing are closely intertwined. A company like Colruyt Group that is firmly committed to innovation and new business models certainly has its place here. However, this southern edge also has its challenges. To make mobility a real asset of this region, a number of drastic changes are necessary. We are happy to discuss with Colruyt Group how we can strengthen each other in this regard."
Colruyt Group is taking initiatives to limit the mobility impact of its occupation of the site and to encourage sustainable commuting. Working with Max Mobiel, Colruyt Group is testing a shuttle bus between NMBS/SNCB station Ghent-St. Pieters and Zwijnaarde Technology Park to complement public transport.
The retailer also offers a carpool programme, a subscription for public transport, a (traditional or electric) company bicycle or a folding bicycle. 20% of Colruyt Group employees cycle to work on a regular basis, a percentage that the group hopes to achieve in Zwijnaarde as well.
---