Tournai welcomes brand-new Bio-Planet
Excellence in sustainability, inspiration for customers
On 29 March, Bio-Planet will open a new store in Tournai, which will be the 33rd store in Belgium. Besides the expansion of the packaging-free range and shopping baskets made from recycled fishing nets, the new Bio-Planet store also stands out in terms of sustainable materials and processes for the construction and maintenance of the building. Read: an impressive biological water treatment plant and heat recovery from the cooling system. Bio-Planet's main goal is to continue to inspire customers in their pursuit of conscious consumption, with truly good products offered in truly good stores.
"We keep an eye on our environmental footprint at all times by striving to offer a 'truly good' product range, on the one hand, and by looking for the most energy-efficient, eco-friendly and sustainable materials and solutions for the construction and maintenance of our stores, on the other. We always think long-term and pay attention to what we leave behind to those who come after us. We want our customers to feel and experience this commitment when they visit our stores. We are proud to announce that Bio-Planet Tournai is about to open." - Jan Van Holsbeke, Business Unit Manager Bio-Planet
Sustainable constructions: source of inspiration for customers
Bio-Planet Tournai is the first branch to recover heat from the cooling system. This means that the heat generated by the cooling system is reused to heat the building. Therefore, no gas connection is needed and no fossil fuels are burned.
And there is more! Bio-Planet chose Cross Laminated Timber (CLT) for the floors, interior and exterior walls and the roof of this brand-new branch. A relatively new wood product that, in addition to being extremely strong, is also popular because of its CO2 storage capabilities. Wood absorbs CO2 during its growth phase and thus offers a truly eco-friendly alternative to traditional building materials such as concrete or steel, which emit CO2 during production.
In addition to signs above each aisle that guide customers around the store, informative panels navigate customers through all sustainability initiatives. This is how Bio-Planet aims to continuously inspire and trigger customers to consume consciously. Examples include the use of LED lighting that uses 30% less energy, solar panels on the roof and a recycling hub at the entrance where customers can leave used batteries, Brita filters and plastic film from their purchases.
For optimal fruit and vegetable preservation, a greenhouse uses the cooling of the adjacent cold room. This eliminates the need for additional controlled cooling, making the building a lot more energy-efficient. Two charging stations in the car park invite you to drive electric and, last but not least, the cash registers in the store were given a second life after previously serving at Colruyt Lowest Prices.
Reuse, reduce, recycle
With a biological water treatment system, Bio-Planet manages to purify waste water from toilets, the butcher's or wash basins so that it can be reused. For example, for flushing toilets or cleaning the store. As wastewater is a continuous source, the system guarantees that sufficient water will always be available. And the shopping baskets also tell a beautiful story. The new shopping baskets are made of recycled polypropylene, derived from plastic waste and used fishing nets from our oceans.
Purchases in bulk and without packaging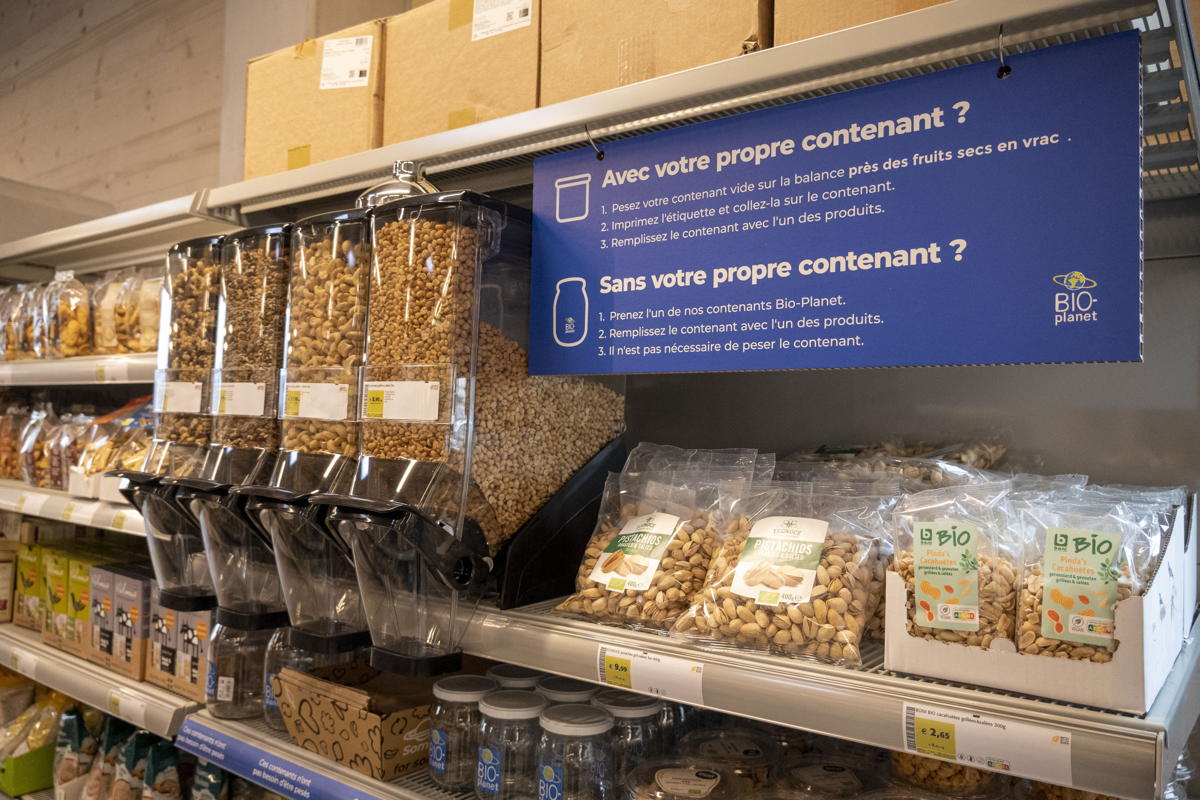 There is a strong focus on the proportion of bulk or packaging-free products, with the aim of cutting out unnecessary packaging and encouraging customers to consume packaging-free. Bio-Planet not only offers its range of fruit and vegetables in bulk, you can also scoop up your nuts, grains, dried fruits to your heart's content in jars or tins that you can purchase at Bio-Planet or in your own jars. The bulk sweet and salty snacks include raspberries, chocolate and trail mix. Also new is the range of coffee beans in bulk. You can choose from three different varieties: Nicaragua, Ethiopia and Colombia.
"Sustainable Product Leadership, which starts with a rich range of unique products. Incredibly delicious in their purity, carefully selected on the basis of their added value for people, animals and planet. Belgian-local, organic, ecological, fair-trade, healthy. It's our standard at Bio-Planet." - Jan Van Holsbeke, Business Unit Manager Bio-Planet
What to expect
At Bio-Planet Tournai, the bread aisle is extended with chilled artisan patisserie, convenient to take away in compostable boxes. You can browse the range of care products and cosmetics in the lively health & beauty corner.
At the service counter, you will find a wide range of cheese, meat and cold meats, as well as numerous veggie and vegan alternatives. By the way, did you know that you can also bring your own jars to be filled at the counter?
And those looking (last minute) for a fine gift have also come to the right place in the Tournai store. Gift baskets full of quality products by the dozen. Finish off with flowers and a gift card.
Practical information
Adres: Rue de Maire 5, 7503 Doornik (Froyennes)
45 parking spaces, 2 charging stations
12 parking spaces for bicycles